Kahurangi National Park
The Kahurangi National Park is among the newest of the National Parks, created as recently as 1996, as well as at 452,002 hectares it is the second biggest National Park in New Zealand after Fiordland.
The park is situated in the northwest of the South Island with the nearest settlements being Takaka, Karamea, Murchison, Tapawera, and Motueka.
There is a mix of landscape and terrain types with forests along the coastal area, alpine herb fields on higher ground, along with many wild and sometimes unpredictable rivers. The park has a diverse natural landscape that provides many opportunities for outdoor activities and includes wild and as yet untracked areas to explore. There are some amazing geological features, rare flora and fauna.
Among the eighteen native bird species that can be heard or seen are; South Island Robin, Bellbirds, and Tui. There are also giant carnivorous snails that feed during the night on massive worms up to one metre long, and in caves you may get to see the extremely rare Kahurangi Cave Spider whose legs can span up to twelve centimetres!
Activities in the Park
For hikers the Heaphy Track is in Kahurangi National Park, covering seventy eight kilometres is one of the most famous of the 'Great Walks'. The Heaphy Track takes you through river valleys, subtropical rainforests, high country, beaches and coastline. It is a very popular track and as such can see over four thousand trampers walking enjoying the experience.
To walk the Heaphy Track will take you from three to five days or there is also the Wangapeka Track crossing the park from east to west that is a similar length of time, three to five day trek.
Apart from the longer tracks there are a variety of short walks to choose from in the Kahurangi National Park and you will be able to access these from roads starting at Motueka, Murchison, Takaka, and Karamea.
If walking isn't your thing, and you fancy a go at the caves in the park, there are a lot of famous caves that attract cavers from many countries. Mount Owen provides some of the best caving in the country with much being still unexplored. It's advisable to take a guided expedition from one of the companies that will transport you to the cave entrance, along with all your equipment, via helicopter!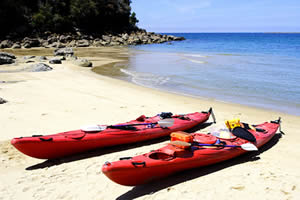 Kayaking, Abel Tasman National Park, New Zealand
As I mentioned earlier, there are many rivers in the park, some wild and unpredictable, and often remote.
Experienced kayakers will enjoy experiencing some of these rivers and for the less experienced you can get a commercial tour.
There are many geological features in Kahurangi National Park that attract not only geologists but fossil hunters and cavers. There are two marble mountains where the marble has been dissolved by water to create fascinating cave systems, Mount Arthur and Mount Owen. Above ground there are arches, shafts, sink holes, and fluted rocks, which make experiencing the landscape of this park unique for its many visitors.
Accommodation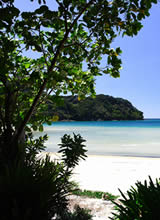 A lot of the accommodation in this park suits the budget traveler and can be found in the settlements of Murchison, Takaka, Karamea, and Motueka. These towns are also where you will find roads heading off to the start of the many walks that are available described above.
Huts provided along the tracks for hikers' accommodation are maintained by the Department of Conservation and camping is also permitted at specified sites along the tracks. The famous Heaphy Track has four of the 'Great Walk' huts that generally have better facilities than the basic hut provision, such as a toilet, water supply, and mattresses. There are seven huts provided along the length of the Wangapeka Track.
Kahurangi Map
Parks
Full map of New Zealand National Parks.
The New Zealand Outdoor Safety Code is extremely useful.