New Zealand Tour 18th October
New Zealand Tour 18th October is part of our travel blog
Maungatautari Ecological Island Trust Reserve
From Out in the Styx and a totally delicious cooked breakfast we made our way the short distance from our accommodation up to the Tari Rd car park.
This car park is at the entrance to the Southern Enclosure of the Maungatautari Ecological Island Trust reserve and access to several walks ranging from 1 and half hours to 5-6 hours.
See my page on Maungatautari New Zealand for more about us and the Maungatautari Trust reserve, including information on walking tracks, viewing tower, and aviary.

Maungatautari Mountain View
Otorohanga Kiwi House & Native Bird Park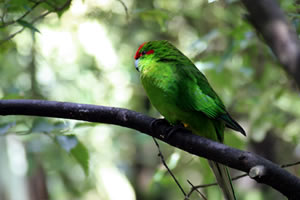 Following our morning bush hike we visited the Otorohanga Kiwi House and Native Bird Park for NZ birds and reptiles.
This native wildlife conservation park is on the way to the Waitomo Caves with only a 15 minute drive between the two locations.
The park makes a great lunch time stop with plenty of space to relax among the native NZ flora and fauna.
Otorohanga Kiwi House & Native Bird Park
Waitomo Glowworm Caves
Next on the agenda was a visit to the Waitomo Glowworm Caves
Whakapapa Village
Then our day was to finish with a drive on to the Whakapapa Village in the Tongariro National Park for our cabin type accommodation.
To be honest, I wasn't that impressed with this particular cabin accommodation considering it was relatively expensive in comparison to other cabins we stayed in during our holiday. It wasn't very well cleaned, the light switches were all in the wrong places and it seemed to be all or nothing with the lighting, the top bunk was difficult to get in and out of as there wasn't a ladder or anything to climb on to get into it (although it was quite funny!), and it wasn't very warm in there.
However, we went down to the local bar for an evening meal in front of a huge open fire. The food was really good and we warmed up well before going back to the cabin.