New Zealand Tour 19th October
New Zealand Tour 19th October is part of our travel blog
Tongariro National Park
We left Whakapapa really early to go and check out the snow fields.
In October it is the end of the snow season in the North Island and spring was just starting.
It was pretty cold early in the morning though so there was potential for snow and last ski sessions of the winter.
The Ski season in NZ is roughly from the start of July through to early October.
Tongariro National Park is home to many famous walks such as Tongariro Trek, Alpine Crossing Track, Mount Ruapehu Crater Lake, Tongariro Northern Circuit, and shorter walks such as Tama Lakes, Taranaki Falls, and Silica Rapids. These walks have different fitness level requirements, and some need you to take a certain amount of equipment with you.
I have written a few pages about the Tongariro National Park, the skiing and heli skiing, Mt Ruapehu and the region, and about some of the walks in this area such as the Tongariro Trek, Alpine Crossing and Northern Circuit. Please visit these pages for detailed information and guides.
The day we were there, there were a lot of skiers driving up to get in a last skiing or snow boarding session before the season ended. It also actually started to snow!
Unfortunately we couldn't see the ski fields due to low cloud hiding the mountain but we could see the top of the stunning cone shaped Mt Ngauruhoe.
Tokaanu Hot Springs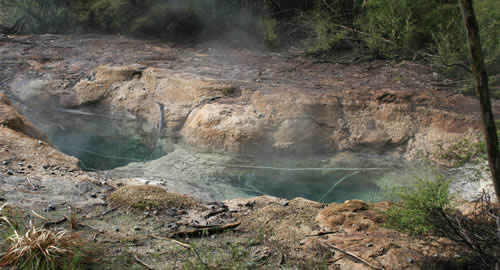 Crystal Clear Thermal Mineral Waters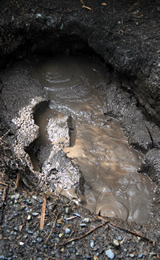 Then we went for a drive round the Desert Road and ended up at Tokaanu where we took a walk around the local hot springs and had a soak in the hot pools.


Visit my page dedicated to the Tokaanu Hot Springs for more information about this fascinating natural landscape and it's thermal mineral waters and bubbling mud pools!
Lake Taupo
Drove over to Lake Taupo and bought some food from a bakery in town for our lunch while having a look round the shops that were open on a Sunday. The fresh bakeries and cake shops in New Zealand have some really tasty food... Yummy!
Huka Falls
The Huka Falls are the largest water falls on the Waikato River where the river forces it's way through a narrow ravine and one of the most visited attractions in NZ. Huka Falls are part of the Waikato River, in Wairakei Park, near Taupo, North Island, New Zealand.
We did want to visit the Orakei Karaka thermal wonderland after the Huka Falls but unfortunately we didn't have enough time and had to head off to our accommoation at Rotorua to be collected for our evening out.
Mitai Maori Village Rotorua
We had booked this evening with the Mitai Maori Village before we left the UK.
Read all about our Mitai Maori Village and cultural experience evening!