Aoraki Mount Cook National Park New Zealand
Approximately 40 percent of Aoraki Mount Cook National Park, New Zealand, is covered with glaciers that wind their way through a unique alpine landscape where there are some permanent snow fields in the Southern Alps.
The 26 km long Tasman Glacier is the largest glacier in New Zealand and located in this Park along with Aoraki / Mount Cook being the highest peak in New Zealand. There are also twenty three other peaks in this National Park that reach more than three thousand metres high!
All New Zealand National Parks
With that brief description Mount Cook may appear that this is an inaccessible National Park but although there is an abundance of activities to suit experienced mountaineers, there are also plenty of activities where the less experienced outdoor enthusiasts have an opportunity to make the best of this stunning environment.
End of the Hooker Valley Track. Hooker Glacier Lake - Photographer Fraser Gunn
There is a multitude of short, long, and multi day walks and tours that take you through the native flora and herb fields, birds and animals to see, or alternatively you can enjoy scenic flights over the Alps and glaciers!
Activities in Mount Cook New Zealand
Additional to the multi day tramping for experienced hikers, there is also ten one day or shorter walks, in the area immediately round the Aoraki/Mount Cook Village and among the surrounding valleys. The more popular tracks taking approximately two hours return, are Hooker Valley, Kea Point, and Red Tarns Track.
Soak up the unique flora, native wildlife, and New Zealand birds on short walks and/or multi day tours through herb fields and/or take scenic flights to glaciers by helicopter, plane, or hot air balloon.
Alpine hikers and trampers with more experience can take challenging routes such as the three mountain passes over the Mueller, Copland and Ball Passes.
For mountaineers the real challenge would be climbing Aoraki/Mount Cook, although there are plenty of other peaks to choose from that are equally challenging to climb. Some favourite peaks would be La Perouse, Elie de Beaumont, Sefton, Tasman, and Malte Brun.
Aoraki/Mount Cook National Park aerial view
Getting access to the glaciers in the park by ski plane or helicopter is an option with several providing choices for advanced skiers to experience such as Darwin, Murchison, and Bonney glaciers.
Experienced guides can take intermediate skiers down the Tasman Glacier and/or you explore the glaciers lake in a boat between October and May. Either way, you would never forget the ice caverns and formations that are part of these adventurous experiences leaving from Aoraki/Mount Cook airport.
Mount Cook National Park Accommodation
View of Aoraki/Mount Cook from the trail head at The Hermitage Hotel. Photo by The Hermitage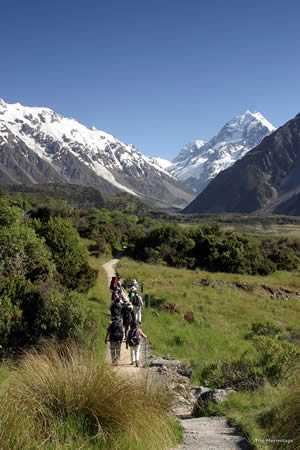 The nearest settlements are Lake Tekapo and Twizel, both of which have a range of facilities, options for accommodation, cafes and restaurants.
If you are not a climbing enthusiast or mountaineer, Aoraki/Mount Cook Village has plenty of attractions for you too.
Accommodation types range from camp sites to backpacker lodges, right up to luxury hotels.
If you are looking for a hotel with views of Aoraki/Mount Cook, the Hermitage Hotel is the place famed for these views.
There are seventeen huts in the Aoraki Mount Cook National Park.
Most of these huts are located with the purpose of provision for mountaineers' accommodation.
You pretty much need climbing experience and skills just to reach the huts!
Aoraki/Mount Cook National Park Location
Shared border with Westland Tai Poutini National Park
Hooker Valley Swing Bridge: Photographer Fraser Gunn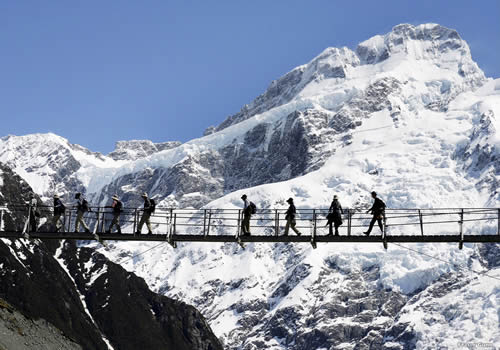 National Parks