New Zealand Tourist Information
New Zealand Tourist Information
Welcome to my New Zealand Tourist Information section dedicated to providing tourism, travel and other information about NZ tourist attractions.
Virtually tour NZ holiday destinations in the North Island, South Island and Stewart Island. See what tours, activities, events, sites and attractions are available in these tourism & travel locations.
What appeals to you the most? The boiling thermal pools and hissing geysers of the Rotorua region? The stunningly dramatic scenes created by the fiords? The lush rainforests full of unique flora and fauna?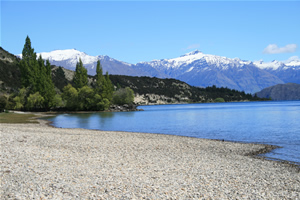 Lake Wanaka
Sweeping and scenic coastlines or numerous stunning lakeside resorts? Or... the vast mountain ranges that run the length of the Islands? Or how about hiking or even one of the nine Great Walks in NZ?
This country is spectacular and unique. There is such a variety of destinations for international and domestic or local travellers in NZ that you are totally spoilt for choice.
I have used many of the photos I took while touring to illustrate the beautiful landscape and sights so you can choose the best places that suit you.
Whatever your taste in holiday destination or activity there is plenty to choose in New Zealand tourist information to be found on this site, including links to other sites such as www.newzealand.com that have a wide range of online resources to help you in the choices and planning of your tour in NZ.
The diverse natural landscape of this country provides you with any type of travel you wish for. It can be a playground for adventure for skiiers or thrills for independent backpackers, a destination that provides exclusive luxury holiday experiences, or somewhere to relax and just soak up the views and world re-known local hospitality.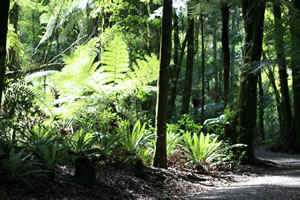 Walking Track in a New Zealand Reserve
The purpose of this site is to help international and domestic or local holiday travellers to make their choices by being well informed.
Follow links from the navigation to explore my site for information on currency, flights, public holidays, routes, climate and weather, animals, seasons, travel, or just for tips on travel insurance.
If you think my visitors would benefit from any guides that you can't find on this site yet please use my contact form to let me know, I'm always open to suggestions.