New Zealand Travel Guide for Touring
New Zealand travel and touring is relatively easy as many of the destinations are only hours apart.
There is a network of road, train, bus, ferry, and air services meaning that you can get to most locations using public transport.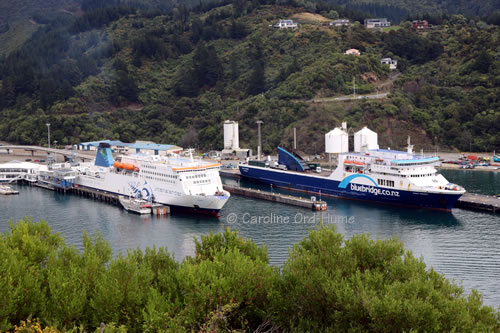 Or for a more independent way of travel choose self drive campervan or car hire.
Alternatively, there are package travel tours with small or large groups where you can let someone else do all the organising for the entire holiday.
Using buses to link with train travel and ferry crossings is not only a relaxing way to tour New Zealand but also has the potential to transport you across the whole country from the North to the South.
Air travel crosses the country using domestic airports with taxis and shuttles being available to transport to you to and from departure and arrival locations.
If you have a schedule that is quite tight, fly and drive combinations are the best way of travelling the length of NZ.
Campervan or Motor Home Travel
Campervan or motorhome hire provides total freedom for you to tour New Zealand, taking the days as they come.
See Campervan New Zealand for a guide and tips for travelling by camper.
You can stop anywhere, take any New Zealand touring route, visit places off the beaten track that you may not otherwise get an opportunity to visit, stop over at the many high quality camp sites, and basically be independent throughout your vacation in your own home from home.
Park up on powered sites to charge up your batteries and use camp ground facilities such as laundry, shops, and dump stations.
Although there are some free camping sites available it is always best to check that camping is permitted at a local information centre before you park up for the night.
Motorhome hire rates do vary depending on which season you are touring. In the height of the summer season or in any other holiday period you will find they are more expensive whereas in an out of season time of year you can get really good deals.
Car Hire New Zealand
Exploring New Zealand by self-drive car rental gives you an abundance of flexibility that really suits New Zealand travel.
Central Otago Dunstan Mountains Tour, South Island
Your itinerary can easily be adapted to suit you because you are not tied in to any time or date and you can visit locations that are a bit more off the usual tourist tours.
The main routes of the road network are of a high standard, there isn't very much traffic to content with outside of the main cities, and driving is a lot more relaxing than other more populated countries.
See Car Hire New Zealand for more.
Air
There are many domestic airports throughout New Zealand so don't think you are restricted to air travel just between the main international airports. Not only does Air New Zealand provide domestic flights across the country, there are also many regional airlines, scenic flight companies, and carter flights to choose from.
Air Travel for more details about domestic services.
NZ Airlines and New Zealand Airports (international or national travel).
Flights to New Zealand for international flights.
Bus and Coach
Buses are a good alternative for New Zealand travel and there are many bus companies that serve the main routes of New Zealand and/or provide specialist tours with a guide driver who will give a commentary during the journey.
There are a variety of different types of tickets on offer so it pays to do some research, particularly if you are using this as part of a backpacking or budget holiday.
Some tickets are a pass to unlimited travel in a period of time or region for a fixed price.
See New Zealand Bus Travel for more detail.
If you are looking for a package tour of main tourist attractions there are a number of companies who provide scheduled tours on both islands. Sometimes your meals and accommodation will be included in an overall price of the tour and you will often get to meet likeminded people who sometimes end up being lifelong friends!
There is a hop on and off service that is popular with independent travellers and backpackers. You can manipulate this New Zealand travel service to suit the type of holiday you are looking for and the drivers are usually full of knowledge about the local areas, activities, and accommodation recommendations.
Train
There are many reasons why people choose to travel by rail with one of the main ones for travelling by train through at least part of your journey in New Zealand being the scenic routes.
You can sit on the train and relax, look out of the window and not have to worry about traffic.
See my page on train travel for information about the North Island Overlander train link between Auckland and Wellington, and the South Island TranzScenic, TranzAlpine and TranzCoastal.
Ferries
Being a country of islands, ferry travel is an important part of New Zealand travel. At a minimum the ferries provide travel between the two main islands, but there also numerous ferries and water taxis to either take you to an island such as Stewart Island or simply to enjoy a different view of the country on a water joy ride.
Some examples of pleasure cruises are; paddle steamer cruises near Queenstown, Whanganui, and Hamilton and a cruise to the Hole in the Rock, Bay of Islands.
For more about getting a ferry between islands see New Zealand Ferries.
Motorcycle
If you are keen on the idea of using a motorcycle for New Zealand travel you can hire them out and tour round these scenic routes that provide a two wheel travellers experience you will never forget.
Makes and models from Harley Davidson, Yamaha, Honda, BMW and Suzuki. Among the ways to include this experience in your itinerary is self-ride, side-car, or pillion tours if you do not ride motorcycles yourself. You can also go on dirt bike tours.
You can sometimes find one way hire choices for New Zealand motorcycle tours but not all companies will be able to provide that option.
Cycle or Mountain Biking
If you have the time to take longer to tour the country and really soak up the atmosphere of the scenery, a bicycle may be the way of travel for you. Alternatively, you may want to try out some mountain biking while you are in New Zealand, either for an adrenaline rush or simply to take in the scenery along a mountain bike trail.
You can hire bicycles and mountain bikes from cycle shops or buy one from a shop that runs a buy back scheme at the end of your tour.
If you would like some company, another option is to take a guided tour with a specialist company. These types of guided tours can be anything from a few days to weeks in length.
You won't have to worry about carrying any camping gear with you as it will be transported between destinations by the company and/or they will organize the accommodation for you and provide support for your New Zealand travel.
See my section on New Zealand Mountain Biking.