About
Hi my name is Caroline Ord-Hume. You can get updates through my Latest Updates, X / Twitter and Facebook
Moeraki Boulders
I was inspired to create this web site after first visiting New Zealand nearly thirty years ago, and many more times since then. I aim to provide you with an insight into a holiday in New Zealand and give you ideas for your own trip.
Please use the navigation or menu to browse the site and I hope you will find plenty to help you plan the trip of a lifetime to this beautiful country.
New Zealand Tour
The links below will be to more detail about the attractions and locations... so do please follow them as the text on this page only provides a basic outline of our tour.
Day 1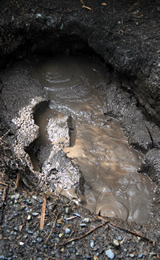 First day in NZ! Provides you with an insight into our visit to Auckland, Auckland Museum, Mount Eden, Mangere Mountain, Out in the Styx accommodation, and the Maungatautari ecological island 'Sanctuary Mountain Maungatautari'.
Day 2
On leaving our accommodation after breakfast, we walked the Southern Enclosure of the Maungatautari Ecological Island Trust reserve, drove down to the Otorohanga Kiwi House & Native Bird Park for NZ birds & reptiles, and then on to the Waitomo Caves before heading for our accommodation at Whakapapa Village.
Day 3
Early morning start in the Tongariro National Park looking for snow! We left Whakapapa Village to drive up to the ski fields to take a look at the last of the snow and the views of Tongariro National Park, spring was on it's way! The itinerary of our day took us along part of the Desert Road, to the Tokaanu hot springs, past Lake Taupo with a stop for lunch in the town, a visit to Huka Falls, and finally on to Rotorua. We had booked an evening out at the Mitai Maori Village with a pick up and drop off service included. We were due to be picked up from the Rotorua Thermal Holiday Park at 5.45pm so just enough time to unload our gear at the holiday park first.
Exploring Wai-O-Tapu Thermal Wonderland, Near Rotorua, New Zealand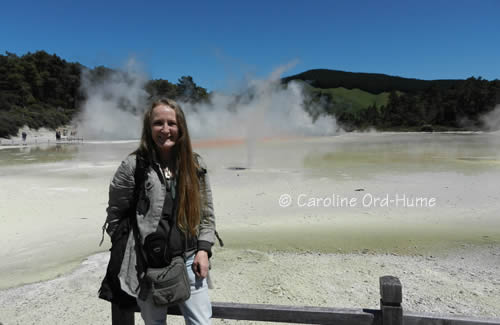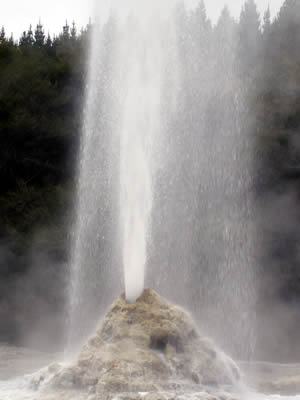 Rotorua New Zealand
Day 4
Rotorua thermal City
Te Wairoa Buried Village
Wai-O-Tapu Thermal Wonderland
Lady K Geyser
Waimangu Thermal Valley
Pohatu Geyser
Hells Gate
Town / Museum
Maori Crafts / Arts Carvers
Day 5
Hot Springs Road, Katikati
Easy one hour return walk to magnificent Kauri tree. One of the biggest left in the Kaimai forest, the southern most limit of Kauri trees in New Zealand.
Soak in hot pools on way back
Visit Katikati museum for a guided history of this little area of NZ, where logging the magnificent Kauri and mining for gold have taken their toll on the diversity of the forest.
Refreshment in The Landing, Katikati
Papamoa beach, swim, surf, collect shells.
Mount Maunganui, Bay of Plenty
Day 6
Coromandel Peninsula, home of spectacular beaches and dense New Zealand bush.
Gold Mines Museum
Twin Kauri Scenic Reserve
Hot Water Beach to our bach accommodation, Taumata Holiday Home
Day 7
Coromandel Peninsula. Walk along Hot Water Beach before breakfast
Cathedral Cove walk
Marine Reserve
Drive round top of Coromandel
Coromandel town for lunch

Hot Water Beach in evening / barbeque
Day 8
Morning drive from Coromandel Peninsula to Auckland via Square Kauri / waterfall walk, visit to the Mineralogical Museum on the way past, then to Miranda. On to Papatoetoe for visit to Maori carver and on to accommodation at Kiwi International Airport Hotel
Day 9
Fly from Auckland to Christchurch, South Island
Pick up campervan and stock up on food and petrol in Christchurch.
Drive down to Olive Grove Lodge and Holiday Park
Day 10
Moeraki Boulders beach
Cromwell - Creeksyde camp ground
Day 11
Drive on to Queenstown
Creeksyde camp ground
Day 12
Read about our day trip from Queenstown to Milford Sound on the BBQ Bus.
Day 13
Arrowtown
Wanaka
Accommodation - Campervan Park, Lake Outlet Holiday Park, Wanaka
Day 14
Puzzling World
Accommodation - Lake Outlet Holiday Park - Lake Wanaka Tourism
Day 15
Haast Pass
Day 16
Fox Glacier
Hokitika Accommodation - Hokitika Holiday Park
Day 17
I love Hokitika so we decided to stay here and relax for a few days instead of doing more driving.
Visit to Ross and Gold Mining Museum
Accommodation - Hokitika Holiday Park
Day 18
Hokitika town and relaxing beach day. Looking round the town and shops and visiting jade carvers.
Accommodation - Hokitika Holiday Park
Day 19
Our friend Kair from the North Island turned up in the late afternoon to travel with us for a few days.
Accommodation - Hokitika Holiday Park
Visit to an old reconstructed gold mining town
Greymouth
Pancake Rocks, Punakaiki, Paparoa National Park
Accommodation - Punakaiki camping ground
Day 20
Drive across Lewis Pass in the snow to Hamner Springs
Accommodation at a Hamner Springs camping ground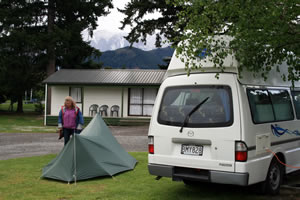 Our Campervan at Hamner Springs camping ground
Day 21
We wanted to go to the Hamner Springs hot pools but they didn't open until 10am! Rather late we thought so we decided to give it a miss and head off to the coast.
Leaving NZ
Drive down to Christchurch with a few scenic stops on the way before dropping off the campervan before the 5.30pm deadline when the depot shuts. We also had to give the camper van a good clean out to ensure we did not lose on the deposit.
Leave Christchurch 8.30pm to fly to Auckland, then from Auckland back to the UK via Hong Kong.
Getting Home
The worst part of the whole journey!
First Holiday in New Zealand
My first experience of NZ was a six month holiday with my partner. The purpose of the trip was partly to visit relatives and friends, but mostly aimed at travelling round the country and seeing the sights. We couldn't plan very well in advance then as we didn't even have a computer... and such freely available access to information on the Internet was in the distant future. However, we didn't really need to gather a lot of information at the time as we would be staying with friends initially. This meant we had the luxury of being able to make our plans once we got there.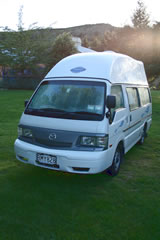 Our campervan on a site near Moeraki Boulders, South Island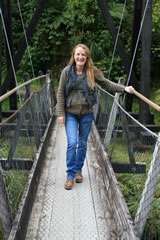 Swing bridge at Fox Glacier, South Island