New Zealand National Parks
New Zealand National Parks
There are fourteen in the New Zealand National Parks list provided alphabetically.
The National Parks map shows where all the parks are located in the North and South Islands.
Below the map there are brief descriptions with links to further information about each national park in New Zealand along with activities and attractions.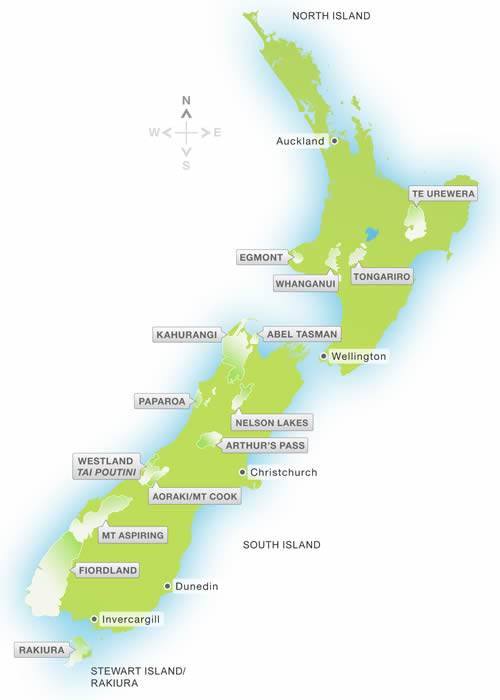 Map of New Zealand National Parks
Image Courtesy of Department of Conservation / Te Papa Atawhai
Abel Tasman
The Abel Tasman Park is likely to be the most famous for its fantastic golden beaches, natural estuaries, geological characteristics, and a climate that provides great weather during the long daylight hours of the New Zealand summer months.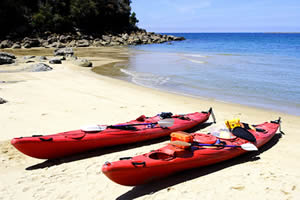 Kayaking, Abel Tasman National Park Beach
Read more about Abel Tasman National Park
There is a well-known 54km walk in this park, the Abel Tasman Coast Track.
Aoraki/Mount Cook
Mount Sefton, Aoraki Mt Cook National Park
Taken from White Horse Campground by © Kerensa Pickett
Aoraki / Mount Cook National Park is in the Central South Island and is very unique with permanent snow fields. Around forty percent of the park has glaciers winding their way through the harsh alpine landscape.
At 27 kilometres long the Tasman Glacier is the biggest New Zealand glacier with the highest peak in the country... Aoraki/Mount Cook, along with 23 other mountain peaks that are over 3000 metres high.
Although it may sound as if this one of the New Zealand National Parks is not very accessible, alongside the activities that should only be undertaken by experienced mountaineers there are plenty of opportunities for the less experienced to enjoy this environment.
More about Mount Cook National Park including activities and accommodation options.
Arthur's Pass
In 1929 Arthur's Pass National Park was established. It incorporates a route through the landscape between Canterbury and Westland that was originally a significantly important trading route for Maori, with the same use being put to it by later settlers, and it was the first national park in the South Island.
Arthur's Pass incudes both historic rail and road routes created under time pressure due to the gold rush, with what we would now likely to consider impossible odds for men working with basic tools in the harsh environment of the Southern Alps with the unpredictable climate.
Detailed information about Arthur's Pass National Park
Egmont National Park
Mt Taranaki volcano (Mt Egmont) stands towering over the surrounding landscape of Egmont National Park along with the two extinct volcanic peaks, Pouakai and Kaitake.
Mt Taranaki (or known as Mt Egmont)
Mt Taranaki volcano is not thought of as extinct but in volcanologist terminology it is considered 'dormant'. It is around 120,000 years old with its last eruption being in 1775.
Egmont was the second national park to be established in New Zealand and is located on the North Island west coast.
Read more about Egmont National Park
Fiordland National Park
In the South West South Island you'll find Fiordland National Park, a scenic wilderness that's not all accessible by any means of transport. Much of the fauna and flora is unique and won't be found anywhere else.
There are more than five hundred kilometers of hiking tracks available, the best known being Milford Track, Kepler Track, and Routeburn Track. Along with these famous walks there are lots more but be aware some do need to be guided by local operators to maintain safety.
More about Fiordland National Park... including walks and activities.
Kahurangi National Park
The second largest of the New Zealand National Parks, and one of the newest, is Kahurangi National Park in the northwest of the South Island. Kahurangi Park has a mixture of terrain and landscapes that include coast, forests, and herb fields at higher levels, and rivers that can be described as unpredictable.
More about... Kahurangi National Park along with activities and nearest accommodation.
Mount Aspiring National Park
The Mount Aspiring National Park is a paradise for those who love river valleys and alpine lakes, glaciers, and mountains. Outdoor activities are not exclusive to but include; mountaineering, skiing, tramping/hiking long and short tracks, jet boating, with an abundance of rivers, forests, lakes, mountains, and wilderness to choose from.
Read more about Mount Aspiring National Park
Nelson Lakes National Park
Located in the northern region of the South Island, the one hundred thousand hectares Nelson Lakes National Park is slightly more south than both Kahurangi National Park and Abel Tasman National Parks and sits just below Kahurangi.
More information about Nelson Lakes National Park.
Paparoa National Park
Paparoa National Park is situated towards the northern end of the West Coast of the South Island in between Greymouth and Westport.
The Park encompasses; a coastline that includes the famous Pancake Rocks with blow holes at Dolomite Point near Punakaiki, underground streams, caves, limestone canyons, forests, and unusual limestone cliffs.
More information on Paparoa National Park
Rakiura National Park
Rakiura National Park encompasses pretty much most of Stewart Island, the southernmost point of New Zealand, and is an area of over one hundred and fifty thousand hectares. Only fifteen per cent of Stewart Island, otherwise known as Rakiura, is outside of the National Park!
More information about Rakiura National Park
Te Urewera National Park
Te Urewera National Park is in the North Island between Hawkes Bay and the Bay of Plenty. This Park includes natural attractions such as; valleys, ridges, and unique geological features, along with Lake Waikaremoana and Lake Waikareiti.
It is the lakes that are partly responsible for making this Park famous, with its remoteness protecting some of the unique native wildlife of New Zealand, particularly a full range of the countries forest bird species that only excludes Weka.
More about Te Urewera National Park activities...
Tongariro National Park
The region with active volcanoes and highest mountains in the North Island... Tongariro National Park is easy to find, it's half way between Auckland and Wellington.
So if you are on a tour of both islands and are doing a ferry crossing at Wellington, you will probably go through or near the park at some point. If not, I do hope you at least catch a glimpse of its mountains in the distance.
Tongariro National Park information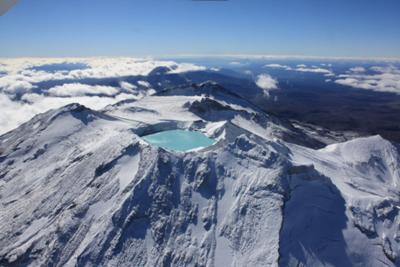 Tongariro National Park from Above by Lee Bee
Westland Tai Poutini National Park
West coast visitors have to pass by part of Westland Tai Poutini National Park when driving up the coastal highway. Around half way up there are two villages named Franz Joseph and Fox Glacier from where you can base your stay to access many activities in the park such as hiking and glacier walks.
This region of the South Island has forests and mountains, rivers and beaches, incorporating the Southern Alps and coastal plains. The glaciers are a 'must do' stop for most.
More information about Westland National Park facilities and activities.
Whanganui National Park
The Whanganui National Park is unique in that the longest navigable river cuts right through it. There is a wealth of wildlife in the park, including the biggest Kiwi population in the North Island.
Activities to be enjoyed include a river that can be canoed by all, whether for multi day trips or just for a few hours, walks that take in tracks used in history to move stock and products, and beautiful valleys and gorges to enjoy.
More information about activities in Whanganui National Park.
Outdoors in the National Parks