Campervan New Zealand
Hiring a campervan in New Zealand gives you all the freedom of being able to travel around anywhere across both the North and South Islands no matter what your budget is.
For one thing, you will also be saving money by not having to pay for accommodation too leaving you with a bit of extra money that you could spend on activities.
Campervan New Zealand, Lake Wanaka camping park, South Island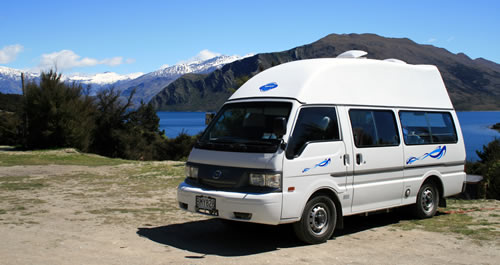 Campervan Costs and Beneits
Campervan rentals are relatively cheap when comparing with the equivalent in most other countries, and when comparing camper van hire with the cost of hotel accommodation you will find your holiday budget substantially reduced as you'll likely have to hire some other transport anyway.
Cheap campervans combine the very best of both worlds and provide the total freedom to change your plans as and when you feel like it throughout your tour. Campervan holidays are exactly suited to touring NZ!
Toyota Regius Converted to Self-contained Campervan, Glenorchy Queenstown Road, Otago, South Island, New Zealand
Roads for Campervans in New Zealand
New Zealand isn't a massive country so campervan travel makes touring relatively easy.
There is a network of roads that provide easy driving on the main routes with traffic being quite sparse in some regions of the country, particularly away from the cities and in the less populated South Island.
Campervan on SH85 in Spring, Otago, New Zealand
It is really relaxing to be cruising along and stopping wherever you want to soak up the fantastic sights, varied landscapes and scenery, or to visit some of the many attractions.
There are other options such as to travel by coach. However, the buses and coaches will only take the main routes between towns, they will not be taking any side routes, and you still have the additional expenses of your accommodation as well as potentially having to do quite a bit more walking.
With a campervan and you will only need to budget a small amount for camping over night at one the many sites dotted around both islands.
Camping Grounds
Camping grounds enable you to use facilities such as showers, washing machines, electricity to charge up your battery, or batteries, fill up your water tank with fresh water, and they have dump stations to empty out your grey water tank.
You will also often meet other campers on these sites, get together for a BBQ, and sometimes make lifelong friends with other travellers.
Campervan Sites
Campsites have exceptionally good facilities for travellers when compared with some countries. Most have facilities such as toilets and showers, dump stations, washing machines, fresh water supplies, and communal kitchen blocks with cooking and fridge facilities.
See New Zealand Campervan Sites for more.
Season of Travel
Campervans are most affordable outside of the main holiday season when you can get some really good deals.
I rented a small camper van for two weeks at the beginning of November to travel round the South Island. I got an amazing deal because it was before the main summer holiday season. It was the start of the Spring and the weather was mostly dry with some warm sunny days... as good as the UK summer! The advantage of holidays at this time of year is that there is hardly any tourist traffic on the roads, we didn't have to worry about booking any sites beforehand, and the camp grounds were not crowded with mid-summer travellers.
See Seasons for more info

Motorhome Campervans Parked in a Car Park at Arrowtown in Summer, New Zealand
Winter travel will likely require a four wheel drive camper van so you can go anywhere on different road conditions. Keep this in mind if you plan to go on a skiing holiday or will be going off road. For travelling between ski resorts the vehicle hire company will generally be able to hire you some snow chains and will also give you advice about driving on different road conditions across the regions.
Four wheel drive shouldn't be needed if you're touring holiday is in the summer season and you do not intend driving in snow or on unsealed tracks. Going off road in campervans is not recommended as there is always a risk of getting stuck off road and in the middle of nowhere. Trying to arrange to get towed out may be a lengthy and expensive experience that you can do without when you are on holiday.
If you do want to travel off road you need to enquire about this with the vehicle hire company because they do not all permit you to take the vehicle off road. Off road and unsealed tracks are known to cause damage to vehicles so you will need additional insurance cover for this if the company does allow it.