New Zealand Walks
There are a set of nine really popular New Zealand walks that is a great place to start researching your hiking holiday if you are looking for a walk that will provide you with access to exploring some of the most scenic parts of NZ's back country and National Parks.
Most people who walk these tracks are visitors from outside of New Zealand as they provide some of the best walking along tramping tracks that are maintained to a very high standard. By the way, 'Tramping' is Kiwi-speak for hiking, trekking, or bush walking.
These nine most famous walks are Department of Conservation (DOC) maintained hiking tracks that make it easier for visitors to make the most of what this fantastic country has to offer the enthusiastic walker. However, don't expect to find solitude in the high season as as the nine Great Walks are heavily promoted to tourists and can become quite crowded at the most popular times of year. If you are keen to meet other like-minded hikers and have a sociable attitude to walking then one of these nine would be a fantastic choice.
If you want to get away from the crowds better to choose a lesser promoted walk. Staff at visitor centres will help you plan enjoyable tramps on less visited tracks.
Some quieter tracks are listed further down this page.
Huts and Camping
Walking and Hiking in NZ
List of Walks - scroll down on this page
Not only are the tracks well maintained but they also have conveniently located and comfortable huts that are well equipped to deal with a high number of visitors through the tramping season.
Some of the huts may be serviced by wardens, there should be a drinking water supply, the bunks may have mattresses, some huts include a flush toilet, some heating and gas for cooking may also be provided during high season.
Out of peak season any such facilities are likely to be minimal. Camping areas are often provided near to the huts so you can pitch a tent if you prefer or if the hut is full to capacity.
Food and Equipment
You need to go prepared with your own food, cooking utensils, bedding, and water when there is a poor supply forecast.
Be warned, there will not be anyone selling food and supplies at the huts, the wardens are there to service the sites and do not sell or provide any such supplies so do make sure you have carried adequate provisions with you.
Permits
There isn't really any charge for using the tracks themselves but check the permit requirements and/or charges that apply to the hut or camping facilities for any individual walk or season.
In high season you will need to make a booking to be guaranteed a camping space or use of a hut along the most popular tracks.
It is also possible to purchase a Great Walks Pass that permits you to use camping or huts on a particular walk for a specified number of nights. However, unlike the permit, the pass does not guarantee you a space in the hut.
Weather Conditions
During the winter many New Zealand walks in the Alps will be impassable or not fully accessible across the whole route due to risk of avalanche and snow. Please ensure you check before embarking on any walk during the winter season.
If the weather permits, you may be able to take a winter walk for part of a track but it is not advised to do so without the appropriate knowledge and equipment during the winter months.
Always best to check with the DOC for any last minute tips, guides, warnings, and news. For example, if it has been a really dry season there may not be a drinking water supply at the huts. In which case, the DOC will display that information on the web site and/or visitor centres.
Walks Books
As an Amazon Associate I earn from qualifying purchases
GREAT WALKS OF NEW ZEALAND - Craig Potton with Shaun Barnett
DAY WALKS IN NEW ZEALAND 100 GREAT TRACKS - Shaun Barnett & Geographx
Walks
The Great Walks - Lists all the 9 famous treks on one page and gives a brief description of each one.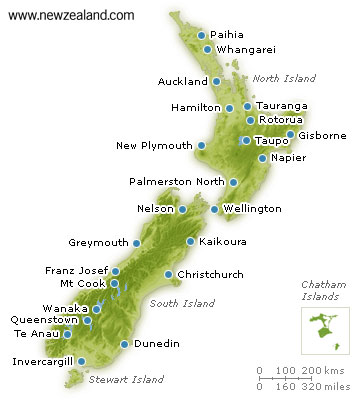 North Island
South Island
Other New Zealand Walks
Book - DAY WALKS IN NEW ZEALAND 100 GREAT TRACKS - Shaun Barnett & Geographx
North Island
Mt Holdsworth Circuit
Ninety Mile Beach Cape Reinga Walkway
Round the Mountain, Mt Taranaki/Egmont
Maungatautari Ecological Island Trust Walks
Mount Maunganui, Bay of Plenty
Related: Tongariro Accommodation
South Island
Arthur's Pass
Banks Peninsula Walk
Greenstone & Caples Tracks
Hump Ridge Track
Inland Pack Track
Kaikoura Coast Track
Matukituki Valley Walks
North-West Circuit
Queen Charlotte Track - Marlborough
Rees-Dart Track
St James Walkway
Wangapeka and Leslie-Karamea Tracks
You will find that there are a multitude of New Zealand walks for you to participate in while on your vacation. Some are just for an hour or two to half or one day, others can take you out into the bush for days on end. They all provide a real experience of this unique environment and the outdoors.