New Zealand Climate: Diverse Environments Across the Islands
Situated in the south-western Pacific Ocean, the New Zealand climate is as diverse and dynamic as its landscapes. From the subtropical warmth of the North Island to the snow-capped peaks of the Southern Alps on the South Island, the country's climate is a fascinating mosaic shaped by its geographical location and varied topography.
Being south of the Tropic of Capricorn, between 37 and 47 degrees south, the occupants of both islands enjoy the moderately high rainfall, mild temperatures, and plenty of sunshine provided by the New Zealand climate.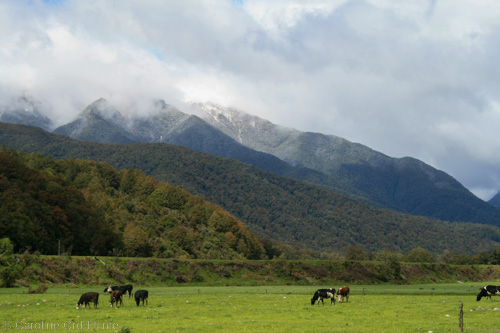 Hamner Springs - November, Lewis Pass, South Island, New Zealand
North Island: Subtropical Comfort
Overview of North Island Climate
The North Island of New Zealand is characterised by a predominantly temperate maritime climate with distinct seasons. Auckland for example, the largest city, experiences mild winters and warm, humid summers. The region benefits from the Tasman Sea to the west, which moderates temperatures and brings ample rainfall.
Hot Springs all Year Round
Seasonal Variation on the North Island
In summer, temperatures often climb into the mid-20s to low 30s Celsius (75-90°F), creating an ideal environment for outdoor activities. Winters are milder, with daytime temperatures ranging from 10 to 15°C (50-60°F). Rainfall is evenly distributed throughout the year, ensuring lush, green landscapes.
South Island: Southern Alps to Flat Plains
Overview of South Island Climate
The South Island, renowned for its breathtaking alpine scenery, has a more varied climate. Its western coast, facing the prevailing westerly winds, receives high rainfall, while the eastern side is notably drier due to the rain shadow effect created by the Southern Alps.
South Island West Coast Rainfall
The West Coast, home to the lush rainforests of Fiordland National Park in Southland, experiences some of the highest rainfall in the country for example. Annual precipitation in the region can exceed 6,000 millimetres, creating an environment rich in biodiversity.
South Island Eastern Dryness
Conversely, the eastern regions, including Canterbury and Otago, are considerably drier. Christchurch for example, the largest city in the region, sees hot, dry summers with temperatures reaching the mid-20s to low 30s Celsius (75-90°F), while winters can be cold, with occasional snowfall.
Central Otago South Island: Continental Influences
Overview of Otago Climate
Central Otago, in the heart of the South Island, stands out for its semi-continental climate. Surrounded by mountains, this region experiences extremes in temperature, with scorching summers and bitterly cold winters.
Otago Summer Heat
During summer, temperatures can climb to above 30°C (86°F), making Central Otago one of the hottest climates in New Zealand. This warmth, has enabled the region's renowned vineyards, contributing to the production of world-class wines.
Otago Winter Chill
In winter, temperatures can plummet, often dropping below freezing. Snow-covered landscapes transform Central Otago into a winter wonderland, attracting enthusiasts for winter sports such as skiing, snowkiting, and snowboarding.
Subantarctic Islands: Remote Wilderness Climate
Overview of Subantarctic Climate
Beyond the main islands, New Zealand's subantarctic islands, including the Auckland Islands and Campbell Island, endure harsh conditions characterised by strong winds and cool temperatures.
Harsh Conditions on New Zealand's Remote Islands
These remote outposts experience cool temperatures even in summer, with averages ranging from 8 to 12°C (46-54°F). The persistent westerly winds and frequent storms make these islands a challenging yet vital habitat for unique flora and fauna.
Outdoor Activities in the New Zealand Climate
If you plan on venturing out on a bush walk, or going hiking in the mountains such as the Southern Alps, you are likely to be exposed to colder weather and temperature variations. You should therefore set out appropriately prepared for the conditions, just as you would in similar environments in other countries.
The New Zealand Land Safety Code (Outdoor Safety Code) has some important information.
In the southern hemisphere the temperature rises as you travel north, to an average of 15°C, and decreases as you travel south to a lower average of 9°C.
Hot Water Beach, Coromandel Peninsula, North Island
Weather
The New Zealand climate, weather patterns, and temperature ranges across the country are not extreme but can change unexpectedly. If doing any outdoor activities at all, such as hiking in national parks, be prepared for the weather to change. This is to be expected, particularly when off the beaten track. Just because it is a nice warm, calm, sunny day at the start of your walk it does not mean that it will be so in a few hours time when you are miles from anywhere!
In parts of the islands you will find there is a higher possibility of rain. Milford Sound for example, has a very high rainfall during some seasons. Always wear suitable footwear and carry a lightweight raincoat if you are going to Milford Sound, Fiordland National Park, particularly for bush walking and on ferry cruises.
Conclusion
New Zealand's climate, shaped by its insular geography and diverse topography, offers a wide spectrum of environments, each with its unique appeal.
Whether relaxing in the subtropical warmth of the North Island, marvelling at the alpine picturesque environment of the South Island, or exploring the remote subantarctic wilderness, visitors and residents alike are treated to a wide variety of climatic conditions that add to the nation's allure. Understanding the New Zealand climate nuances enhances the appreciation of the country's natural beauty and the ecological diversity that thrives within its borders.