New Zealand Climate
The New Zealand climate will be a major contributor to your whole holiday experience.
In every direction around NZ there is over a thousand kilometres of ocean resulting in a moderate maritime climate, temperatures, and weather patterns.
The Islands two main geographical features that influence the weather and climatic conditions are the mountains and the sea.
Through the southern summer months it is warm, and during the winter it's never extremely cold.
Having said that, if you are venturing out on a bush walk, or in the mountains or southern alps, where you are likely to be exposed to colder weather and temperature variations, you should set out appropriately prepared for the conditions just as you would in similar environments in other countries.
Hot Springs all Year Round
Being south of the Tropic of Capricorn, between 37 and 47 degrees south, the occupants of both islands enjoy the moderately high rainfall, mild temperatures, and plenty of sunshine provided by the New Zealand climate.
In the southern hemisphere the temperature rises as you travel north, to an average of 15°C, and decreases as you travel south to a lower average of 9°C.
Weather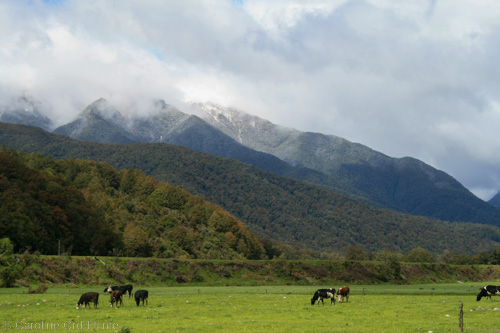 Hamner Springs - November
Lewis Pass
South Island New Zealand
The New Zealand climate weather patterns and temperature ranges across the country are not extreme but can be known to change unexpectedly. If you plan on doing any outdoor activities such as hiking, you should be prepared for the weather to change. This is to be expected of those sorts of activities and particularly true if you are going walking or tramping in the mountains or bush, or anywhere off the beaten track. Just because it is a nice warm, calm, sunny day at the start of your trek it does not mean that it will be so in a few hours time when you are miles from anywhere! And vice versa of course.
In parts of the Islands you will find there is a higher possibility of rain. Milford Sound for example, has a very high rainfall during some seasons. Always wear suitable footwear and carry a lightweight raincoat if you are going there, particularly for bush walking and to take onto the ferry trips.
More information about
New Zealand Weather and New Zealand Seasons
Hot Water Beach,
Coromandel Peninsula