New Zealand Cities and Towns
Each of the main New Zealand cities and towns has their own unique appeal and a slightly different culture.
Every city has historical buildings and monuments indicating the history of settlement there - for instance, Christchurch is often considered to be "the most English city in the southern hemisphere", whereas Dunedin has a noticeably more Scottish design and set of traditions.
Here is a short piece on the major cities in New Zealand and what you can expect to experience in each.
Auckland
Auckland is by far the largest city in New Zealand - the only one with a population over one million people. Auckland is also the largest-growing urban centre, and has been expanding across the Auckland Region for several decades.
Auckland city is widely seen as the metropolitan centre of the country and it tends to be the place where the biggest major events take place, but at the same time it also seems to draw a bit of friendly criticism from around the rest of the country.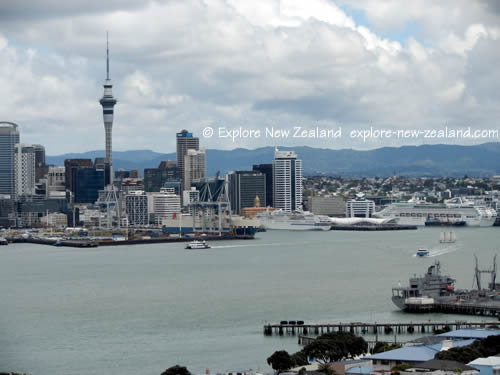 Cities in New Zealand - Auckland City Docks and Auckland Skyline
Auckland is the only city in NZ that comes close to qualifying as a true "melting pot" of races and cultures from around the world. The Museum in Auckland is a fascinating place to visit and it's right up on a hill with views for miles!
Population 1.6 million.
Auckland Transport and Ferries
Wellington
Out of all the New Zealand cities, Wellington is the capital city and is widely seen as being the cultural centre of the country (although many Aucklanders may beg to differ). Now called Middle Earth due to the release of the Hobbit films!
Wellington - Capital City of New Zealand
View of Wellington docks, ferry terminals, and City skyline
Because parliament is centred here, it's a city with a lot of government workers and professionals. It also appears to be a more active city in terms of film, theatre and music creation.
Wellington and Wairarapa Region
Ferries to the South Island depart from the North Island at Wellington docks.
50 Wellington Attractions - Annual Events and Festivals in Wellington
Christchurch
Christchurch New Zealand is the biggest city on the South Island. The city's layout is based around the city of the same name in England, with a central cathedral and a square around which the grid of streets is laid out.
Although it's an urban centre, you're much more likely to encounter "provincial" attitudes throughout the South Island, particularly with older generations. Sights to see here include lots of impressive architecture, wildlife parks, punting down the Avon river and a gondola ride which gives a clear view of the whole city. Although the horrific earthquake in February of 2011 caused a lot of damage to the city, there has been a lot of work carried out on repairing and rebuilding. The residents and businesses of Christchurch will appreciate the support of tourism. Visit Christchurch!
Hamilton
Hamilton is another fairly large city on the North Island.
There are quite a few tourist attractions in and around Hamilton, such as the film set of Hobbiton which was used for the Hobbit and Lord of the Rings movies. Like Queenstown, there's also some adventure activities on offer in Hamilton such as jet boating.
Hamilton Map - Google map opens in new window
Dunedin
Dunedin was originally settled by Scots and has maintained connections to its Scottish past through architecture and traditions. But the most striking aspect of Dunedin is its young population. Otago University is widely considered the best medical school in the country, so students from all over NZ migrate to Dunedin to study. As a result there's a strong student culture in the city.
Due to the concentration of so many tourists in a relatively small space, there's a lot of premium dining to be experienced here on top of all the activities.
Tauranga
Tauranga is in the Bay of Plenty and well known for its harbours and marine life. It's a popular city with New Zealanders due to its climate and lifestyle opportunities.
Tauranga has a growing population and currently looks like a popular place for Aucklanders to relocate to. Whether living there or just visiting you can enjoy amazing beaches, culture and nightlife, and easy access to some of the best wild and rugged coast, bush, and activities.
Palmerston North
Palmerston North is between the Ruahine, and Tararua Ranges in the North Island Manawatu Whanganui region. It's a lively city with lots of students of Massey University contributing to the population. In fact, around 30% of the population is of ages between 15 and 30.
Being located in the centre of a narrower part of the country, accessing both east and west coasts from Palmerston North is easy, as is getting out into the wilds of the bush, skiing on Mt. Ruapehu, or hopping down to the capital city of Wellington.
Queenstown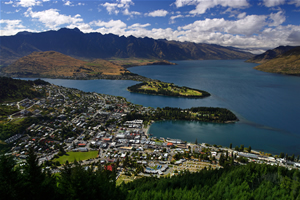 Queenstown
Queenstown is the adventure tourism centre of the South Island.
Here you can enjoy such experiences as bungee jumping, skydiving, a canon swing, jet-boating, skiing, and more.
It has a unique character, largely because many of its residents are foreign and only there temporarily.
Rotorua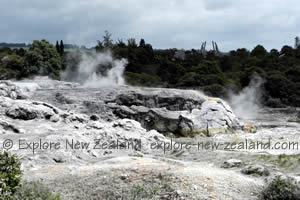 Rotorua
Rotorua is in the Bay of Plenty region and a main tourist town on the North Island.
It's best known for its bubbling mud pools and the relaxing natural thermal pools on offer.
It's a popular place to stop off if you're particularly into health and wellness, and it's also possibly the best place to experience Maori culture.
Hastings
Hastings is in Hawkes Bay; it's the largest city in the Bay, and around 20k from Napier and has lots of heritage and tourist attractions along with an amazing amount of wineries in the area. Visit Cape Kidnappers Gannet Colony, play in the big Splash Planet Fun Park, go fishing for trout in TukiTuki river along with other water sports such as jet-boating and kayaking, or go for a walk at Te Mata Peak. Plenty to see and do in and around Hastings!
Napier
Napier is located in New Zealand's Hawke's Bay, a region well known for the high quality wines it produces and excellent climate. Napier is one of the few cities in New Zealand that gets consistently good weather throughout the entire year.
It is also very distinctive in its architecture - it was extensively rebuilt in Art Deco style after the majority of the buildings were destroyed in the Napier Earthquake of 1931.
The Napier Art Deco Festival is fantastic. It runs for a few days and there are lots of events and things to see, such as vehicles from all around the world that are shipped over to attend the festival that runs for a few days every year.
New Plymouth
English settlers named New Plymouth after the original Plymouth on the south coast of Devon, UK. Attractions to the city and area include Egmont National Park walking tracks, Mount Taranaki, bush walks, heritage museum, and the 10km New Plymouth Coastal Walkway.
Nelson
Nelson is an NZ city known for its excellent climate and tends to be one of the sunniest cities in the country during any given year. This is a well-known wine-growing region.
Many tourists and New Zealanders take their camping holidays in this part of the country. Often chosen for the agreealble weather and the opportunity to take part in fishing and water sports, particularly in the Nelson Lakes National Park.
Invercargill
Invercargill is the southernmost city and often left out of many tourist itineraries, which tend to only go as far south as Dunedin and Queenstown. But if you're driving yourself around the country and you truly want to go tip to tip, you'll pass through Invercargill on your way to the bottom.
If you plan on visiting Fiordland and the Catlins, which offer some of the most beautiful scenery in NZ, you'll also likely pass through here.
Whangarei
Whangerei is one of the northernmost urban areas in the country. It's relatively small compared to other New Zealand cities but it is growing quickly.
Whangerei's biggest claim to fame is the beauty of the beaches and surrounding waters. If you own a boat or you'd like to hire one while you're in NZ, this is definitely a good place to do it.
Whanganui
Whanganui, being based on the beautiful and navigable Whanganui River, is steeped in trading history and culture from the important role it played in transporting goods using the River. The unspoilt natural landscape and native bush land surrounding Whanganui has plenty of choice for visitors, as does the river for kayaking and cruising on a paddle steamer. Take time to explore Whanganui heritage, the buildings, museum, and Maori culture and artefacts.
Timaru
Timaru is on the coast between Christchurch and Dunedin and has plenty of history from when the Maori first began to use the natural harbour, to Edwardian and Victorian times. If you are driving down the coast from Christchurch, Timaru makes an excellent place to stop over or use as a base for activities. Just inland there are lakes for fishing and watersports, and within a couple of hours drive you'll find mountains for skiing. Sea trips for whale watching are also provided from Timaru.
Gisborne
Gisborne is located on the coast of the Gisborne / Eastland region, in Poverty Bay, and was named after William Gisborne in colonial times. It has a warm and mild climate, has lots of historic interest in the region and for the settlement of New Zealand, is close to some lovely beaches and not far from the Te Urewera National Park for camping, walking, and access to the bush.
City List
Map of New Zealand showing main cities and towns.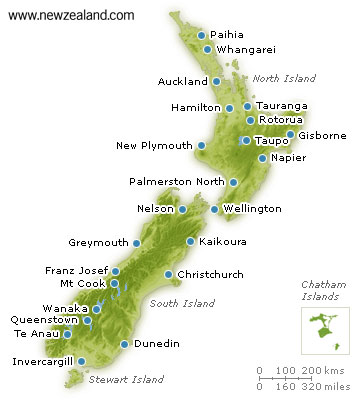 A list of New Zealand cities...
North Island
South Island
Towns
Alphabetical list of all New Zealand towns to visit.
Regions
There are twenty five main regions in New Zealand that cover both the North Island and South Island. See New Zealand Regions for more information.