New Zealand Events
If you fancy taking in an event or festival while you are travelling around the country, this list of New Zealand events promotes festivals and other yearly gatherings. Some are one day events, some run for a weekend, or even over an entire month.
Events listed alphabetically
Arrowtown Autumn Festival Five days of Festival activities and events over ANZAC weekend.
Auckland Seafood Festival An annual weekend festival where you can enjoy a range of local delicacies. Other attractions at this event include wines, beers, music, and crafts.
Events at Auckland Town Hall, THE EDGE
Battle of the Streets The Paeroa Battle of the Streets race has been held annually for more than 15 years on the third weedend in February. I've been to see this and it's well worth going, an excellent weekend!
Bay of Islands Jazz and Blues Festival 3 days of quality jazz and blues music in August.
Maketu Kaimoana Festival. Bay of Plenty's original seafood festival - February.
Tauranga Multicultural Festival Dance - March.
Bay Of Plenty The National Jazz Festival - Easter and lasts for 5 days.
Bluesfest This is a celebration of great blues, gourmet food, wine and beer held in Rotorua.
Cavell Leitch New Zealand International Jazz & Blues Festival in Christchurch. A world-class annual event with New Zealand artists and international musicians - May
Cornwall Park Summer Events including music, family fun, exhibitions, and shows during the summer in the park
Coromandel Peninsula Events & Festivals all year round listings!
Dunedin Calendar of Events including festivals, music, sport, exhibitions, markets and fairs.
The Food Show Events on national food and wine... yum!
F.A.W.C. Food and Wine Classic in Hawke's Bay, 10 days
Liquorland New Zealand Beer Festival an annual festival ingrained in the cultural calendars of Auckland and Wellington
Manawatu International Jazz and Blues Festival brings together the very best of New Zealand and International Jazz and Blues stars for a yearly long weekend event.
Mercury Music Festival Whitianga
National Jazz Festival Tauranga
New Zealand Ocean Swim Series Encourages community health and overall well being with events and ocean swimming during the summer.
Organic River Festival is a yearly event and a vibrant and upbeat celebration of music, food, and creativity over a weekend.
Robertson Holden International Speedway, see their calendar for upcoming events, Palmerston North, North Island
Summerdaze Festival, Arrowtown, Queenstown... a month-long festival in the Queenstown Lakes district with a programme packed with music, sports, arts and crafts.
Taranaki Fringe Garden Festival
Waiuku Steel 'n' Wheels Festival
Waitangi Day Festival is an annual event in the Waitangi Treaty Grounds, Bay of Islands. The grounds are home to activities, culture, tours and workshops, and plenty of entertainment for all the family such as music concerts
World Buskers Festival An annual 10 day festival in January that attracts 300,000 visitors keen to experience hilarious and sometimes daring antics of buskers
Rugby information and links on my New Zealand Rugby page.
New Zealand Newspapers for regions, towns, and national events.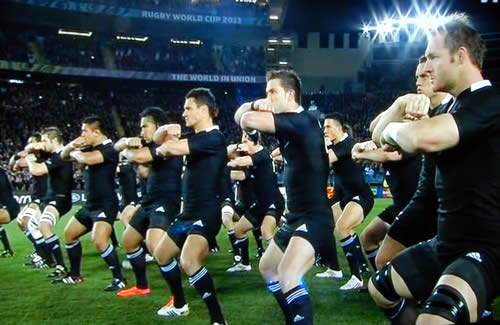 All Blacks Haka
*