New Zealand Currency, Cash, and Bank Cards
NZD Currency
The New Zealand currency unit is the New Zealand dollar / NZ$.
The $1 is made up of 100 cents.
ISO Code: NZD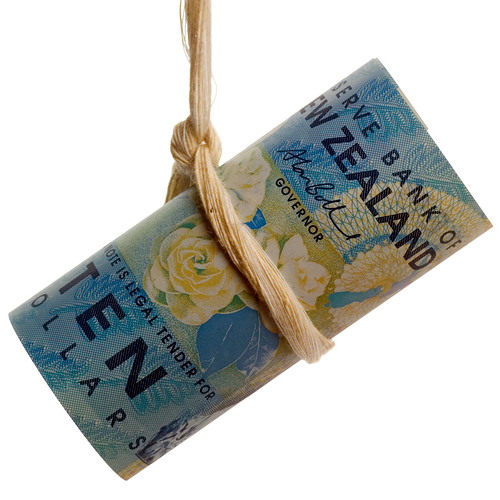 Values of coins and notes are:
Coins: $2, $1, 50c, 20c, and 10c. (Note: The old 5c coin has been phased out)
Banknotes: $100, $50, $20, $10, and $5
NZD Cash
You are permitted to bring any amount of foreign money into New Zealand but if the amount of cash you are carrying is more than NZD $10,000 it will be necessary to fill out a Border Cash Report.
Exchanging your foreign money into New Zealand Dollars / NZD is easily done at any bank, Bureau de Change kiosk at airports and within city centres. Some larger hotels will also provide an exchange service but may apply a handling fee.
Credit and Debit Cards
Major credit and debit cards such as Visa, Mastercard, Diners Club, and American Express, are widely accepted and can be used all over New Zealand to pay for goods and services during your holiday.
You can pay for just about anything with a card such as bus tickets, bungy jumps, meals in restaurants, hostel beds, campsites, and NZ tours.
Check with your credit card provider when you are planning a vacation to New Zealand as you may have to inform them where you are going and the dates you plan to be away.
Fraud
Credit card fraud is always something that banks will be watching for so if you tell the card provider where you are going they will not think you card has been stolen with the result of putting a hold on it's use. It is a major inconvenience if this happens and best to inform your bank before leaving so they know it is you who is using your card.
Charges
Be aware that you will likely be charged by your own credit card provider for using your card abroad. It is usually a percentage of the amount you have spent, for example 3%.
You should also ask what the exchange rate is based on when using your cards as you can sometimes end up getting a lower rate that the base rate.
If you shop around you may be able to get a new card from a provider that does not charge anything for using it abroad.
From the UK, I got a credit card and a debit card from a different bank before travelling and took them both with me. The cards did not have a charge for any use while abroad at the time and the exchange rate was based on the base rate from VISA. It therefore did not cost me anything extra for using either card to use as New Zealand Currency while abroad. It is pointless me naming the specific bank as the offer may be out of date now.
Insurance
It is advised to ensure your credit or debit card is covered by insurance before travelling. You may already have an insurance cover specifically for your cards but if not, check with your travel insurance to make sure bank credit and debit cards are covered.
Travellers Cheque's
The widely used credit and debit cards make travelers cheque's less popular these days but if you prefer to use travelers cheque's to get your New Zealand currency they are accepted at banks, hotels, and some shops.
If exchanging at trading banks or large hotels, the official rate will apply. Sometimes additional exchange rate charges are charged. To try to avoid this it is recommended to take travellers cheque's in GBP sterling, Australian dollars, or US dollars.
Banking Hours
Banks are open week days from Monday to Friday between 9.30am and 4.30pm.
Exchange Rate
Please visit the Exchange Rate and Money pages.