New Zealand Rugby: Teams, Traditions, Rugby World Cup
Rugby is almost like a religion unto itself in New Zealand and often tends to be the one thing you can talk about with locals anywhere around the country, from the major urban centres through to isolated farms.
Rugby World Cup 2023
The Rugby World Cup 2023 was hosted by France. Sadly, the All Blacks lost the final to South Africa and are therefore runners up.
Rugby World Cup 2019
The Rugby World Cup 2019 hosted in Japan. Unfortunately the All Blacks lost their semi final match against England.
Rugby World Cup 2015
The Rugby World Cup 2015 hosted in England with the final, New Zealand v Australia, held at Twickenham on 31 October 2015.
New Zealand All Blacks won the Rugby World Cup 2015 by beating Australia 34-17.
Their success leads to the All Blacks being the first nation to successfully defend their title and win back to back Rugby World Cup titles in 2011 and 2015. It is also the first time the All Blacks won the title on foreign soil.
Not only that, it is a record third Rugby World Cup win! New Zealand won their first World Cup in 1987.
Rugby World Cup 2011
All Blacks win the Rugby World Cup 2011 for New Zealand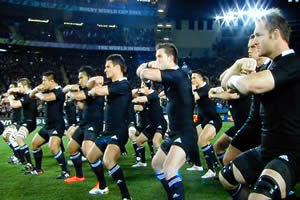 All Blacks
The RWC 2011 Final at Eden Park in Auckland on October 23rd 2011 was won by the New Zealand All Blacks.
The 2011 Rugby World Cup was hosted by New Zealand for the first time since 1987.
There was a lot of pride riding on winning the 2011 World Cup on home soil and it has been an incredibly big deal to a lot of New Zealanders.
The All Blacks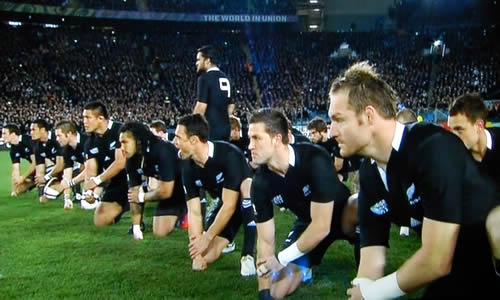 All Blacks Haka
The All Blacks are the jewel in the crown of NZ rugby union - the national New Zealand rugby team. The name, of course, comes from the uniform - the team wears all black, apart from the small silver fern symbol on the New Zealand rugby shirt. The silver fern is a plant native to NZ and it has come to represent all of New Zealand's sporting endeavors.
More Rugby
All Blacks, Maori All Blacks, All Blacks Sevens, Black Ferns, Black Ferns Sevens, Heartland XV, Junior All Blacks, New Zealand Under 20, New Zealand Schools, NZ Provincial Barbarians
Here is a quick rundown of the different levels at which rugby is played in New Zealand along with a little bit of history for both men's and women's rugby.
Women's Rugby
While many tourists know about the All Blacks, the women's rugby union team, the Black Ferns, is less well-known - but certainly no less successful. In fact, in their own competitions they've been even more successful than the All Blacks, having won four successive World Cup titles (1998, 2002, 2006 and 2010).
The Black Ferns Sevens are also successful at being World Champions after winning the Rugby World Cup final in 2013.
Provincial Rugby
While many people play rugby at a club level, provincial rugby is the lowest level which is televised and taken seriously by large numbers of people. Rather than representing cities, teams represent their province - such as Auckland, Canterbury, or Otago. Players tend to play for their region of origin or where they live.
Super Rugby
Super 15 Rugby is a competition that spans Australia, New Zealand and South Africa. While these teams also bear provincial names, they're not the same as those competing in provincial matches. Super Rugby is more professional and players are more likely to switch to another team for a better contract.
Maori Rugby Timeline
New Zealand History Online compiled a timeline running from 1870 to present day covering the events and players through Maori rugby history. Visit the Maori Rugby Timeline.
Rugby Union World Cups
New Zealand won their first World Cup in 1987 (when it was jointly hosted by New Zealand and Australia). They didn't make the final in 1991, and in 1995 they experienced a heart-breaking defeat in the final against South Africa in the last moments of extra time.
Since then, the All Blacks' World Cup campaigns have been plagued with problems. The 1999 campaign ended with a semi-final loss to France. 2003 saw them lose to Australia in the semi-final, and in 2007 they were again knocked out by the French - this time in the quarter-finals.
New Zealand Rugby League
The New Zealand Rugby League (NZRL) is the organisation develops and delivers rugby league in New Zealand.
NZRL manages the New Zealand Kiwis, the Kiwi Ferns, the Junior Kiwis, NZ Residents, NZ 16s, NZ 18s, NZ 18s Select, Taurahere, and the National Secondary Schools Tournament.
You can find out more about rugby league in NZ by visiting New Zealand Rugby League