Campervan Shower
Self-contained campervan shower and toilet facilities put the cost of hire up considerably so if you think you can do without an on board shower it will put less strain on your budget and give you more money to spend on activities. The difference between a campervan with a shower, and one without, can run into hundreds of dollars.
2 Berth Campervan with Self-Contained Shower and Toilet Facilities
If you can afford a higher berth larger campervan it will likely have a shower in it anyway so you won't have to make the decision!
Similarly, if you are looking for a small camper that does not have a high top you are unlikely to be given the choice because they don't have shower options. If you can't stand up in the camper you won't be able to have a shower.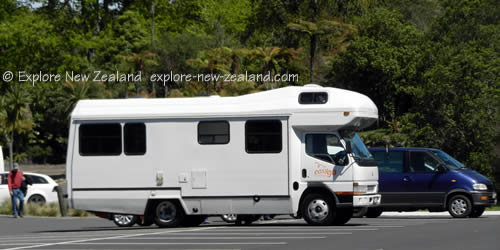 Self-Contained Large Motorhome
Campervan Shower and Toilet Unit
The first time I hired a camper I thought it would be useful to get one with a shower in it. I happened to find with a really good deal and that had a shower with a portable toilet, in what was basically a cupboard. To use the shower you had to lift out the toilet and there wasn't much room in there after removing the toilet anyway.
Campervan New Zealand main page.
What I didn't think of at the time was that the campsite facilities in New Zealand are so good that you don't really need a shower in your motorhome unless you are not going to use camping sites. If you hire a motorhome that is fully self-contained in every way you can camp on DOC sites with minimal facilities because all your waste water etc. is stored within the motorhome, or you can do what is called 'freedom camping' in designated locations. Although a lot of people do frown on freedom camping because some campers leave their rubbish behind and spoil it for those who tidy up after themselves.
You are not permitted to park up overnight other than on campsites if you are unable to maintain all waste facilities on board. Dumping waste water other than in serviced dump stations is not allowed due to obvious issues of causing pollution and danger to wildlife or residents of New Zealand.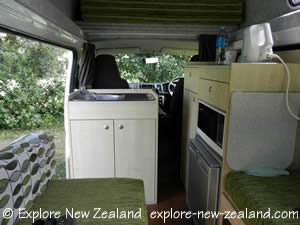 Campervan - No Shower or Toilet
A Funny Shower Tray Incident
One morning I got up and opened the campervan shower door and the tray was full of water.
As it had rained heavily the night before, and the water was clean, I thought the roof must be leaking above the shower or something like that, although there was no sign of water running down the walls. So I mopped it all up into a bucket and tipped it down the sink.
When I opened the shower door again the water was back all over the floor of the shower tray to the same level it was before I mopped it up! Still no sign of a roof leak.
Yes... you have probably guessed by now that the waste water tank needed emptying and when I tipped the bucket of water down the sink it overflowed straight back into the shower tray. Anyway, having not hired this type of camper previously, what I wasn't aware of was how often the grey water tank needed emptying. We had such a laugh about it, it was hilarious.
How could I be so dim?
Was the Shower Useful?
We never did use that shower!
The toilet was useful on long stretches of roads across the South Island where there were not so many toilet facilities between locations, but we didn't make use of the shower at all.
We stayed on camp sites all the time for safety more than anything and to be honest the sites were so cheap per night, with such good facilities, they suited us perfectly.
If you are going to be using camp sites all the time, don't be so bothered about having a campervan shower to use and remember that if you do use it you need to empty the waste water tank more regularly than if your only waste water is from the sink!
Campervan New Zealand main page.