Egmont National Park and Mount Taranaki
In the 33,534 hectare Egmont National Park, the Mount Taranaki volcano (or Mount Egmont) towers over the landscape that surrounds it with the two other volcanic peaks that are now extinct, Pouakai and Kaitake.
Mt Taranaki volcano is however is not considered to be extinct. The proper volcanologist terminology is 'dormant' as although approximately 120,000 years old, it did last erupt in 1775.
This was the second national park of New Zealand and was established in 1900... following close on the heels of the nearby Tongariro National Park.
The park itself is situated on the west coast of the North Island in the Taranaki region with the closest settlements being New Plymouth, Stratford, Opunake, and Inglewood.
Activities in Egmont National Park
Mt Taranaki (or Mt Egmont), Egmont National Park, New Zealand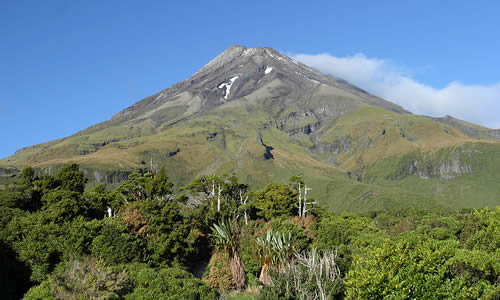 There are thirteen entrances to Egmont National Park making it a very accessible as a wild area of the North Island to visit.
There are many walking tracks to choose from that will provide you with access to see the unique beauty that this park is known for such as; Dawson Falls, East Egmont, the Kamahi walk is at East Egmont and takes you through the Goblin Forest.
Longer walks include a 2 day Pouakai Circuit that starts and finishes at North Egmont and crosses the Pouakai volcano as well as the Ahukawakawa Swamp. Another multi day walk is the Around the Mountain Circuit that will take you from three to five days to complete.
Climbing to the summit of Mt Taranki is supposed to be achievable by inexperienced mountaineers in summer months and is often the mountain that those who appreciate geology head for. If you are not fit enough to make the climb however, there are many relaxing walks in the region that take in wetlands, waterfalls, and forests, as well as visually rewarding scenic viewpoints.
As well as being of interest to geologists, botanists can also get their fill of plant species progressing to the summit. In the lowlands there is a scattering of forest made up of Rata and Rimu trees. As you walk up the mountain this flora changes to Totara, Kaikawaka, and Kamahi, and gnarled shapes of trees with trailing mosses. Yet higher again, you will be walking through alpine herbs and scrub.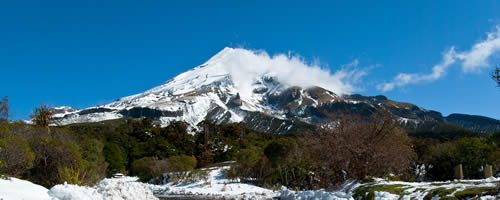 Mt Taranaki (or Mt Egmont), Egmont National Park, New Zealand
At a height of 2518 metres high, the snow capped peak of Mt Taranaki is often above the clouds and for climbers who are willing to take on this challenge will be rewarded with spectacular views of the surrounding rural landscape. Starting the climb at North Egmont, it will take around six to eight hours to get to the summit and return.
For the inexperienced this is only achievable in the summer months as in the winter it is restricted to those with experience of ice and snow climbing. Even for the experienced climbers, a knowledge of Mt Taranaki's unique conditions are required, along with the correct equipment and skills for using it correctly and safely.
There is a ski field on the eastern slopes operated by a local club during the ski season between June and October but they also welcome visitors.
Accommodation in Egmont National Park
Stratford, Opunake, and Hawera have affordable accommodation to choose from. New Plymouth provides some luxury options in the city.
There are a system of tracks linking eight hikers' huts and two lodges. As well as these there are lodges under private ownership that offer additional accommodation in the park. The DOC lodges are located at North Egmont and Dawson Falls, the private lodges are Mountain House Motor Lodge and Dawson Falls Mountain Lodge.
Egmont National Park Location
Parks
All New Zealand National Parks list with descriptions.
New Zealand Animals and Marine Life