New Zealand Campervan Sites
I have stayed at quite a few New Zealand campervan sites while on tour in NZ, North and South Islands. If you like camper vans you will absolutely love it in New Zealand.
Most campervan sites across the country are clean with well equipped facilities to cater for your overnight stay.
2 Berth Campervan on a Campsite in New Zealand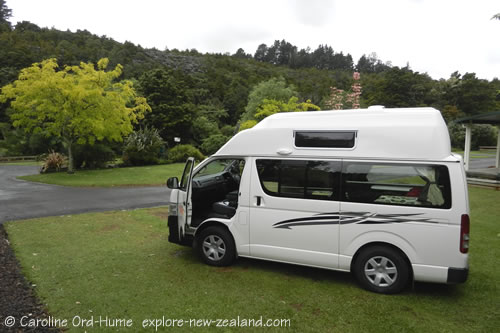 After enjoying driving through the stunning scenery or visiting the attractions this country has to offer, what you need is somewhere safe to park up overnight, refill your water and empty your waste tank, talk to some other travellers and locals, and spend the evening relaxing and thinking about where you are going to be driving to the next day.
Campsite Kitchens
Camp sites in New Zealand usually have a communal kitchen if you don't want to sit on your own in your campervan.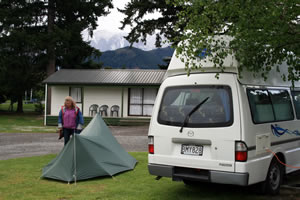 Campervan site at Hamner Springs
The amount of equipment in the camp kitchens varies but generally includes fridges and freezers, ovens and microwaves, tables and chairs, cutlery and pans, and sometimes a supply of condiments and sauces that you can use for free.
Having a communal kitchen to use means you can chat with fellow travellers while you are cooking and eating, make friends, and get some ideas about places to visit.
You never know who you are going to meet and it all makes for an amazing camping experience. Alternatively, you can cook in the privacy of your own motor home or campervan and have a quiet evening.
Camp Grounds
Camping sites across New Zealand are excellent and cater for travellers much better than in a lot of other countries. Most camp grounds have toilet and shower blocks, dump stations, fresh water supplies, washing machines, and kitchens with cooking and fridge facilities.
Although many New Zealand campervan sites will include a shop where you can purchase basic food supplies such as eggs and milk, it is more cost efficient to buy your main shopping from a supermarket. Small campsite shops are likely to be slightly more expensive but they are good for emergency supplies.
There are also free Department of Conservation (DOC) camp sites but there will be less in the way of facilities and the sites do vary quite a lot.
Some include a long drop toilet, may include a tap and water supply if you are lucky, whereas others do not provide anything except an area to park your vehicle or pitch a tent.
If there are toilets and other facilities on free camping grounds you will sometimes see an honesty box where you can give a small contribution to help with the maintenance and upkeep of these facilities.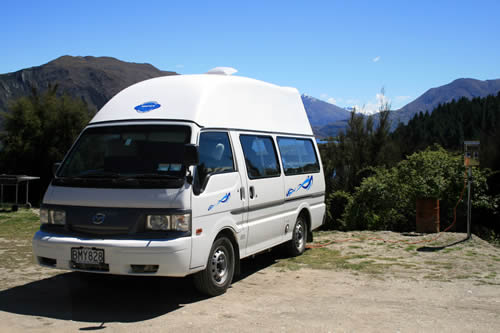 Lake Outlet Holiday Park, Lake Wanaka, New Zealand
Categories of Camping Sites
As with anywhere, not all campervan sites are exactly the same. You can generally categorise the sites into three types.
Commercial Camping Sites
There are plenty of commercially run camp sites across both islands for you to choose from. Of these, probably around three quarters are Holiday Accommodation Parks of New Zealand (HAPNZ) members.
You will find that most of these commercial sites have kitchens, showers and toilet blocks, dump stations for emptying your waste water, and powered sites with power points where you can plug in to the mains and recharge your camper van battery.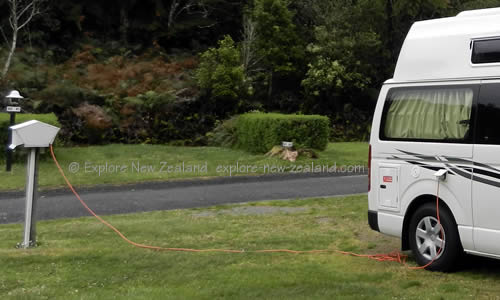 Powered Site - Campervan Plugged into Power on a Campervan Site in New Zealand
Local Council Camping Sites
There are some council run camping sites dotted around the country.
Department of Conservation (DOC) Camping Sites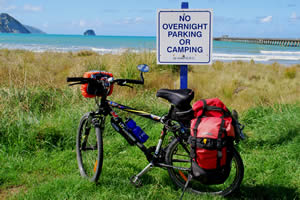 Photographer: Roy Sinclair
DOC has sites set aside for camping and among those there are a couple of hundred that are accessible to vehicles.
DOC sites are usually fairly basic and informal but there are services sites available too.
Of the three types, informal, standard, and serviced, only the serviced and the majority of the standard are actually suitable for campervans.
The informal sites either won't be accessible because they are purposefully located in romote places and more for walkers than drivers, or they won't be suitable to cater for campervan needs such as power and dump stations.
Waste and Rubbish
You will need to find a dump station every day to dump your waste water. Please do not dump waste water at the side of roads, respect the countryside and use the official dump stations for grey water or toilet waste.
Please also try to adhere to the recycling policies of the areas you visit. At most New Zealand camping sites you will find you can split your rubbish into plastics, metal, food waste etc. and there will be different containers provided for you to put your rubbish into.
Seasons
Be aware that some New Zealand campervan sites will only be open for part of the year. This is particularly relevant in the winter months and more so in the South Island where it is colder and if located in the mountain regions.
Check out Campervan New Zealand and my page on New Zealand Seasons...