Tokaanu Hot Springs New Zealand
The Tokaanu Hot Springs are part of the active volcanic zone in the Taupo area of New Zealand and have been used by Māori for more than five centuries.
If you are visiting the Tongariro National Park I recommend a drive round the Desert Road and then call in at the thermal springs hot pools on the way to Lake Taupo.
The Ngati Tuwharetoa people made use of the naturally heated springs for cooking food, and for bathing and relaxing in the therapeutic mineral waters.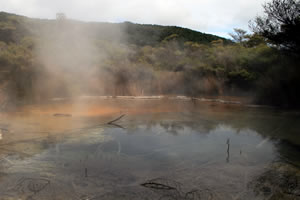 Steaming Hot Thermal Springs

Deep Pool of Clear Spring Waters
This is also a popular stopping place on the North Island tourist route that has developed in popularity since way back in the 1880s.
Europeans used the settlement as a welcome break while travelling between Whanganui to Taupo.
Today, the natural thermal springs are made use of by locals and tourists alike.
Apart from the attraction of natural wonders, it is also an historic area of importance in the education of New Zealand culture and history and you can learn all about it from the historic and scientific displays.
The Tokaanu settlement is located at the southern end of Lake Taupo, approximately 5 km west of Turangi, and was known to be the main settlement of the area before Turangi was developed in the 1960s.
Clear Spring Water

Tokaanu Springs Bush Walk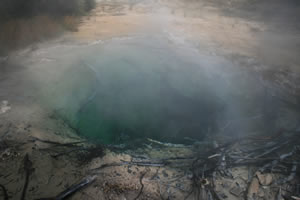 Deep Pool in the Thermal Spring
Tokaanu Hot Springs in New Zealand is a thermal park with boiling bubbling mud pools and hot springs.
There is a 15-20 minute boardwalk you can use to stroll round the springs which is also accessible to wheelchair users.
At the complex entrance there is a bridge over the Tokaanu cold water stream where Rainbow trout are living in their natural environment.
Following your walk you can take a relaxing soak in the therapeutic waters of the hot thermal spring waters at the hot pool complex.
Then, before you leave, enjoy and ice cream, cold drink, or snack from the shop!
Directions
Tokaanu Hot Springs, Mangaroa Street, Tokaanu, is located just off the main SH41 road, a few kilometres North-west of Turangi.
You can access the facilities from 10am to 9pm every day except Christmas day.
Bubbling Mud