BBQ Bus
Day trip on the BBQ Bus, South Island, New Zealand
Having limited time on holiday means that doing a lot of driving dashing from one place to another can seriously eat into your holiday time and you can end up being exhausted.
If you want to do a day trip to Milford Sound rather than drive the long road yourself, it's a good idea to book a day trip on a bus.
These tour buses usually pick you up from your accommodation or a central location and drop you back off at the end of the day.
In my case, I was touring in a camper and staying at a camp ground in Queenstown for a couple of days before moving on to Wanaka. There was no way I wanted to tackle driving all the way to Milford and back in a day!
So, the BBQ Bus picked us up from the campsite in Queenstown at 7.30am and took us to Milford Sound, Fiordland National Park, via Te Anau.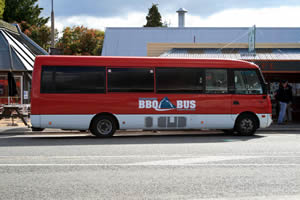 Milford Sound Bus Tour
On the way we stopped at Te Anau, the Mirror Lakes, and then at a beach forest where the driver and his lovely assistant cooked up a delicious BBQ while we went for a short walk through the forest to look at the lake.
The purpose behind having the BBQ on the way to Milford Sound was so that the other tourist buses would have already been and gone by the time we got there.
So on arrival we would not have to queue for lunch or for the ferry because the other tourists had already left.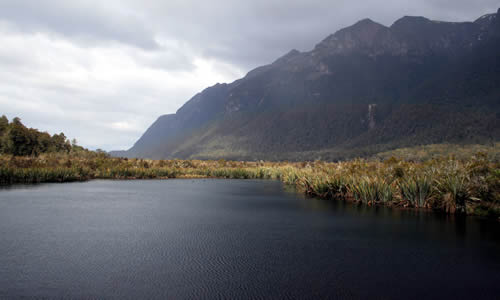 Mirror Lakes on the way to Milford Sound
It was a great plan and as anticipated, we got to Milford Sound for the last ferry trip, there were no other passengers except those on the bus, and we didn't need any lunch because we had already eaten!
What a fantastic experience, our hosts on the bus were really knowledgeable about the areas on the drive to Milford Sound, and I would fully recommend this as a good way to do this trip in one day from Queenstown, or other pick up points along the way.
We were then dropped off back at the camp ground in Queenstown around 8.30pm.
Visit the BBQ Bus web site for more information.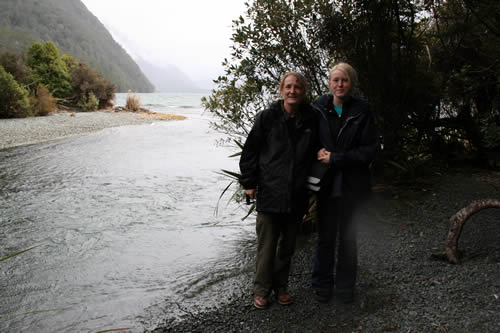 Lunchtime walk to the river while waiting for our BBQ
A Beach forest on the way to Milford Sound