New Zealand Bus Travel
New Zealand bus travel is a popular way of getting around for both tourists and locals.
Travelling Between and Within Towns and Cities, and Scenic Bus Tours.
There's an extensive system of buses running all over the countryside, and the larger towns and cities of New Zealand have fairly reliable bus systems too.
Bus travel can be much more affordable than driving or flying, if you do it right and it allows you to get an up close look at the country you're travelling through.
Travelling Between Cities
Let's look first at the buses that run between towns and cities in New Zealand for the strict purpose of getting you from A to B. If you book one of these buses, rather than a tour bus, you can find your way around the country very cheaply. In fact, one of the major bus operators, InterCity, has regular seat deals on offer.
In general, New Zealand bus travel is the best way to get to some of the more out-of-the-way towns and camping areas, if you don't want to hire a car. Bus routes cover much more of the country than trains and airlines, and will get you there much more cost effectively.
Of course, there's one major drawback of travelling by bus when you compare it to driving yourself. On a bus, you don't have the luxury of stopping wherever you want to take photos or grab a bite to eat. You stop when the bus driver decides it's time to stop!
Travelling Within Cities
In large cities like Christchurch, buses form the backbone of the public transport system. The major cities have a central hub for bus services that branch out to all the suburbs and surrounding towns.
In the big cities during the week, bus services run on a fairly regular basis, with the busier routes often running buses every 15 minutes. In smaller towns, you can expect buses to be fewer and farther between, so you'll have to plan your schedule accordingly.
If you don't have a vehicle at your disposable, using the New Zealand bus travel systems in the main cities will save you a lot of money. You can get from one side of a big city to the other for just a few dollars, whereas a similar trip in a taxi would easily cost over $50.
Scenic Bus Travel
So far we've covered no-frills bus travel in and around cities. But there are plenty of bus tours running that will ensure you take in a good scenic experience, and maybe a few adventures.
Of course, these tours cost a little more than a bus fare on the InterCity, but they are more of an all-inclusive deal.
One such bus tour designed to appeal to backpackers and other young travellers is the Kiwi Experience. This is an affordable way to see some of the highlights of the country and take part in some of the more exciting experiences. Kiwi Experience allows you to pick and choose and customize your tour to your budget and how long you're in the country.
Another way to maximise on bus travel is by buying a New Zealand's low cost national bus pass Nakedpassport. This bus pass is valid for 12 months from the first day you use it and can be tailored to suit your travel needs. This national bus company also have plenty of 'Fun Stuff' to choose from for touring NZ and taking in some of the sights you definately don't want to miss.
You can also just get a day tour to an attraction or destination such as the BBQ bus that services tours to Milford Sound. We took a day trip to Milford Sound when we were camping over in Queenstown. To go from Queenstown to Milford sound is a really long day drive there and back so we decided to take bus tour and let someone else do the driving. It was a great experience and much more relaxing than having to drive that distance in one day myself.
Our trip was from Queenstown to Milford sound and was all inclusive of a stop off for a BBQ lunch in an ancient beech forest, and a ferry trip on Milford Sound.
Read more about the BBQ Bus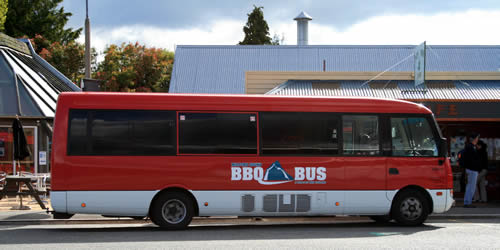 BBQ BUS, Te Anau, on the way to Milford Sound, South Island
Combination Travel
Use combinations of travel types such as New Zealand bus travel to link up with trains and the ferry crossings. It is a great way to get transport across the whole country... from the North to the South.