Huka Falls, Taupo New Zealand
Huka Falls are part of the Waikato River, in Wairakei Park, near Taupo, North Island, New Zealand.
These are the largest water falls on the Waikato River and one of the most visited attractions in NZ.
Huka Falls name was very appropriately given from the Maori word 'Hukanui', meaning 'great body of spray'. And there certainly is a huge amount of water resembling foam created by the rapids!
Waikato River in the narrow ravine
New Zealand's longest river, Waikato River, is 100 metres wide in places and drains Lake Taupo.
Huka Falls is only 1.6km north from Lake Taupo which is Australasia's largest freshwater lake. It is only a 5 minute drive or bus ride, or a 30 minute river walk from Lake Taupo.
Although Waikato River meanders along quite gracefully, when it gets to the volcanic rock ravine it turns into a roaring mass of gushing water as it travels through the narrow and shallow ravine.
There is a footbridge across the falls that gives you a first hand experience of the speed and volume of the powerful rapids rushing under your feet at the rate of more than 220,000 litres of water a second.
It's a pretty scary experience that can give a vertigo type feeling and it almost feels like the bridge is moving as you watch the rapids thundering under the bridge.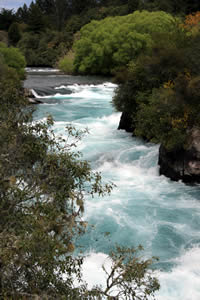 Huka Falls
The noise of the water rushing through the 15 metre ravine makes an incredible roar!
At the end of the narrow chasm the mass of water bursts out over the 10 metre Huka Falls, crashing into an 11 metres surging pool below.
It's amazing how crystal clear and blue the waters are after all this.
There are some nice short walks you can take in the area.
If you want to make a day of it try the walk along the Waikato River from Taupo to Huka and back. It is approximately one and half hours to walk from Taupo to the Falls along the river.
If that isn't enough walking for you, you can go another 7 kilometres for two hours from the Falls along the Taupo Walkway to Aratiatia.
Or park up at Huka, cross the bridge and walk to Aratiatia from the Falls.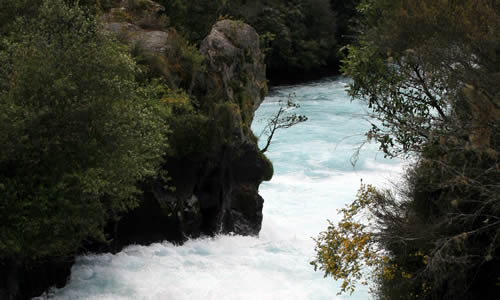 Waikato River

More than 220,000 litres of water every second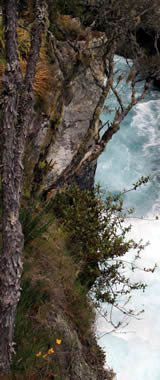 Huka Falls New Zealand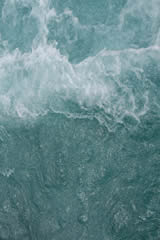 Bubbling water at Huka Falls New Zealand