Waikato Region New Zealand
The entire boundary of Waikato in New Zealand is very big. The Waikato region and covers around 25 thousand km of the North Island.
If you arrive in Auckland and drive south, Waikato is the next region you come to, the boundaries cross from west to east coast, include the Coromandel Peninsula, and run down the centre of the North Island to also contain Taupo, Rotorua, and part of Mt Ruapehu.
Landscape View of Waikato New Zealand Region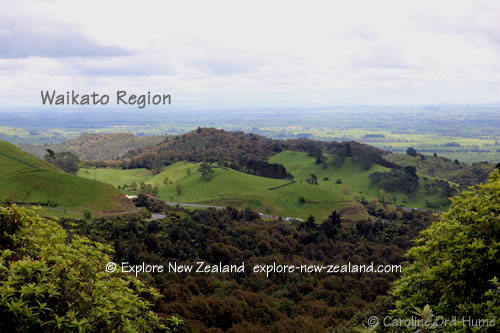 The 'official' Waikato region boundary if you like, relates to local government and district councils. As far as being clear for tourists goes, it makes more sense to list the districts for travellers and tourists looking for things to do and places to go in the Waikato region.
Waikato Districts
Waikato Attractions and Activities
This area has a lot of famous places such as Lake Taupo which is the largest lake in NZ, Waikato River running from Lake Taupo to the Tasman Sea, the amazing glow worm caves of Waitomo, and thermal wonderlands of central North Island such as around Rotorua and Tongariro areas.
These are just a sample...
Places in Waikato New Zealand
Coromandel Peninsula
Taupo
Waikato
Waikato Region Location