Kepler Track New Zealand
The Kepler Track in Fiordland New Zealand, near Te Anau, is a circular hike that covers 60 kilometres while traversing the stunning and spectacular scenery of the Fiordland National Park, in the South Island of New Zealand, and is one of the nine Great Walks.
Kepler Track Scenery in Fiordland
Image by Jade Stephens
South Island
3 to- 4 days
60 km
Huts and camping sites are available and require an advanced booking to be secured. See below.
As one of the DOC Great Walks, and part of the Te-Wāhipounamu - South West New Zealand World Heritage Area, the DOC looks after this track.
Kepler Day Walks
Kepler Track carpark to Dock Bay and Brod Bay
Kepler Track carpark to Rainbow Reach
Rainbow Reach to Shallow Bay or Moturau Hut
Kepler Track carpark to Luxmore Hut
Kepler Track Fiordland
Fiordland National Park is in the south west of New Zealand's South Island. (See interactive location map further down page).
The tracks length of 60km takes three to four days of easy tramping to complete.
Lakes Te Anau and Manapouri add to the scenic views along the way.
This region is less populated than regions further north and therefore the only local towns that are available for accommodation and hiking equipment are Te Anau and Manapouri.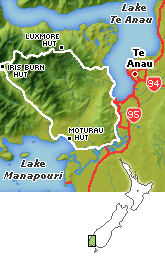 Te Anau
Te Anau has shops that stock all the camping and trekking equipment that you will need for this walk, including equipment for hire.
To get the most out of hiking the Kepler Track, it is important that you do have the right equipment and clothing.
Being prepared physically will also make it a more safe and enjoyable experience.
Huts and Camping
The three huts on Kepler Track are; Luxmore, Iris Burn, and Moturau with areas for camping being provided close to Iris Burn and at Brod Bay. The New Zealand Great Walks huts are well equipped with cooking facilities, running water, lights, and tables etc. and the Kepler Track is no different.
More information about the full facilities provision will be provided when you enquire about booking a hut with the DOC and rangers are stationed at the huts for information about the Track, the environment, and for help any emergencies.
Be aware that you are not permitted to set up camp anywhere else along the track and if you will be camping you are not allowed to use the hut facilities. However, there are some facilities provided for your use at the designated camping areas such as water, shelter for cooking, and a pit type toilet.
As an Amazon Associate I earn from qualifying purchases
GREAT WALKS OF NEW ZEALAND - Craig Potton with Shaun Barnett
Great Walks - New Zealand National Parks
You can make hut and camp site bookings with the Department of Conservation for a fee. During the high season there are daily shuttle buses to take you to the tracks entry and exit points.
Kepler Track Location and Map
If you really want a challenge you could take part in the annual event and run the 60km with the Asics Kepler Challenge Mountain Run or the shorter 27km Luxmore Grunt.
Both these races are held on the Kepler Track and you will be running through some of the most amazing scenery in the world!