New Zealand Great Walks
The nine New Zealand Great Walks are outlined below with the distance and number of days each track takes to complete, depending on your walking pace.
Great Walks View of Tongariro National Park Landscape
For further information about each of the 9 greatest walks, select the link after the walk description to go to specific details.
As well as the Great Walks, here is a list of other walks in New Zealand along with information about huts, camping, permits, food, equipment, and weather.
Nine Great Walks
Tongariro Northern Circuit
North Island
Between 4 and 5 days
Tongariro Northern Circuit takes you through a stunning, dramatic, and volcanic landscape like no other in the world. Wind your way over Mount Tongariro and around Mount Ngauruhoe where you will pass through landforms such as volcanic craters and glacial valleys.
For a more details... New Zealand Tongariro Northern Circuit... includes details of other walks in the Tongariro National Park.
Whanganui Journey
North Island
5 day trek

This one of the Great Walks is actually a river journey, taken by kayak!
More information about Whanganui Journey.
Lake Waikaremoana Track
North Island
Between 3 and 4 Days
Magnificent scenery, mixed vegetation terrain through forest with abundant bird life, swimming and fishing opportunities.
For details... Lake Waikaremoana Track
Abel Tasman Coast Track
South Island
3-5 Days

Easy tramping with bridged waterways but some tidal crossings that need to be timed right to get across a few hours either side of low tide so check the tide timetable before heading out.
Detailed guides see Abel Tasman Coast Track and Abel Tasman National Park
Heaphy Track
South Island
4 - 6 days
The Heaphy Track is in the Kahurangi National Park in the north west of the South Island. This is the longest of the tracks described on this page but is a good walking track suitable for well-equiped fit trampers with all waterways being bridged and covering a variety of terrains.
More details about the Heaphy Track
Routeburn Track
South Island
3 days
Traversing Mount Aspiring National Park and Fiordland National Park, running between Lake Wakatipu and the Te Anau / Milford Road, the Routeburn Track is one of the famous New Zealand Great Walks that provides some fantastic walking through the stunning South Island scenery.
Detailed guide see Routeburn Track
Milford Track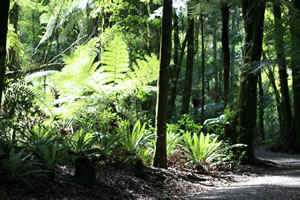 South Island
4 Days
The Milford Track is in the South West New Zealand World Heritage Area (Te Wahipounamu) in the Fiordland National Park.
This track can also be walked with a guided group as can many of the other New Zealand Great Walks. Starting at the head of Lake Te Anau, the track completes your journey at Milford Sound. Once you are there you could also take a trip out onto the sound in one of the ferries, it's an experience not to be missed and particularly spectacular if the weather isn't so good and calm! If it is pouring with rain it can enhance your experience as waterfalls appear all around the sounds.
Full Milford Track information
Kepler Track
South Island
3 - 4 days
The Kepler Track is also in the Fiordland National Park, Te-Wahipounamu - South West New Zealand World Heritage Area, and provides yet another opportunity to witness the spectacular scenery.
More infomation about Kepler Track and Te Anau
Rakiura Track
Stewart Island
3 day track
Getting to Stewart Island involves either an hour ferry trip from Bluff or a 20 min flight from Invercargill. The Island is home to the most southern Rakiura National Park. Rakiura Track requires a moderate fitness level and is available for all year round walking.
For details visit Rakiura Track
Walks Books
As an Amazon Associate I earn from qualifying purchases
GREAT WALKS OF NEW ZEALAND - Craig Potton with Shaun Barnett
DAY WALKS IN NEW ZEALAND 100 GREAT TRACKS - Shaun Barnett & Geographx