Pied Shag - Cormorant
New Zealand Pied Shags, Kāruhiruhi, have conservation status of threatened and recovering.

These large shags are quite easily recognisable with their black backs and white fronts, and a very colourful green eye surrounded by a blue eye ring with yellow skin area in front.
Pied Shag, Kāruhiruhi, Drying Wing Feathers on Rocks at Picton Dock, Marlborough Sounds, South Island, New Zealand
Pied Shag (Phalacrocorax varius). Family: Phalacrocoracidae
Common and Maori names for this species extend to Pied Shag, Pied Cormorant, Kāruhiruhi, Karuhiruhi, Kawau, Large Pied Shag, and the historic name of Yellow-faced Cormorant.
Habitat and Distribution
Pied Shag colonies breed and feed mostly on the coast in marine waters and in estuaries and harbours but they do also sometimes inhabit inland freshwater lakes.
Two Adult Pied Shags Preening at Picton Port Docks, Marlborough, South Island, New Zealand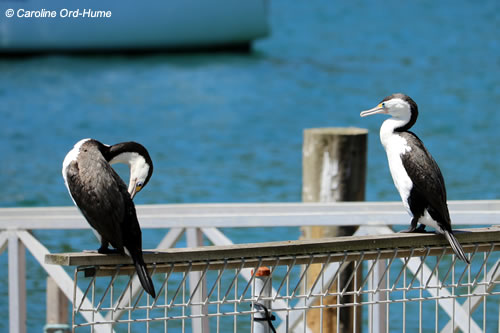 The wide geographic distribution of Pied Shags stretches from Northland down to the bottom of the South Island, and also Stewart Island.
You will sometimes see colonies of this species roosting in branches of trees in populated areas on the banks of rivers close to the coast where they can fish for food.
This doesn't always go down well with people living nearby because they can get quite noisy and smelly when living in a colony.
New Zealand Pied Shag Description and Identification
Adult Pied Shags have black feathers from their crown down to their tail, across their wings and down their thighs, followed by black legs and feet. They have white feathers on their face, front neck and belly.
Adult Pied Shag, Kāruhiruhi, (Phalacrocorax varius) Species Identification. Black Crown to Back, Tail, and Thighs. White Face and Front. Green Eye, Blue Eye Ring, Yellow Skin in Front of Eye. Takitimu Drive Walkway, Tauranga Estuary, Bay of Plenty, North Island, New Zealand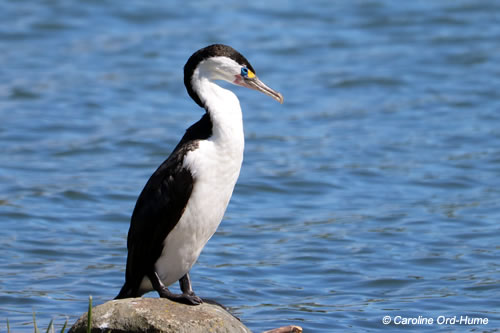 Recognisable facial colours of breeding adult Pied Shags are the yellow skin in front of the eyes, a green eye iris, a blue eye ring, and a long hooked beak that is also quite colourful on close inspection with grey, pink, and cream colourings.
Non breeding adults have paler colours on the face as do juvenile birds. Young Pied Shags have brown/white to mottled feathers and do not develop the distinctive black and white feathers until adulthood.
Pied Shag Diet
Pied Shags dive up to 10 metres depth to catch fish species which make up around 90% of their diet, and will also feed on crustaceans, molluscs and cephalopods. Shags will swallow, or attempt to swallow; whole fish or eels up to quite large sizes and their occasional struggle to swallow large fish whole is quite fascinating to watch.
Pied Shag, Kāruhiruhi, Swimming and Fishing for Food in Picton, Marlborough Sounds, South Island, New Zealand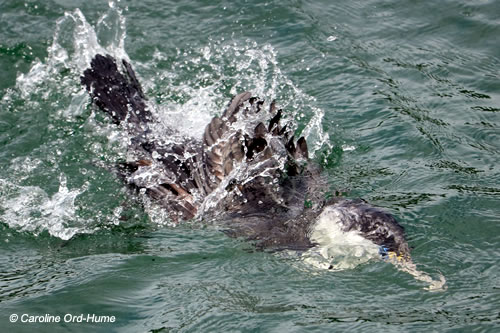 Fish species in the diet of Pied Shag of New Zealand will include, not exclusively, Kahawai, Flounder, Perch, Mullet, Trevally, Wrasse, and Eels.
Pied Shag Conservation
A status of threatened, and/or recovering, doesn't mean that the species doesn't need conserving to ensure survival. The Pied Shag is protected by law in New Zealand.
Although Pied Shags used to be killed by humans sometimes due to competing for fish stocks, I would hope these days with bird conservation efforts and respect for protecting wildlife, that the killing of shags for that reason isn't the case anymore.
As with other shag species and diving sea birds, under water fishing tackle, nets, long lines, and Cray pots are all a threat should the shag get caught up and drown.
Other threats include pollution such as oil and contaminants, along with items of plastic that seem to be everywhere in the oceans and rivers now.
Pied Shags do not seem to be extremely nervous when approached by humans and other animals such as dogs.
This is particularly true when they are drying their feathers after diving, at which time they find it difficult to fly and therefore are more vulnerable to being under attack by a loose dog if they are unable to take off and fly away due to waterlogged feathers.
Also see this list of all species of New Zealand shag marine birds.
More about birds and animals in NZ...
List of native New Zealand bird species and a list of wild animals in and around New Zealand