Bay of Plenty
The Bay of Plenty region covers the North Island land between Waihi Beach on the northern regional boundary with the Coromandel, Waihau Bay of East Cape, and Rotorua inland.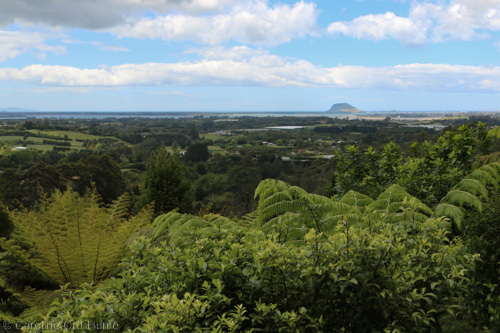 Bay of Plenty Landscape View, Mt Maunganui in the Distance
This region has fantastic unspoiled beaches distributed along 260km of coastline, a climate with the highest rate of sunshine hours annually in NZ, and fertile land for agriculture such as fruit growing.
These attributes contribute towards making the Bay of Plenty a popular place for New Zealanders to settle and tourists to visit. Three main urban centres are Tauranga, Whakatane, and Rotorua.
(BOP region map is provided below)
The Bay of Plenty was named so by Captain Cook in 1769 due to the plentiful resources and generous people he found there.
Bay of Plenty Climate
The Bay of Plenty experiences warm, humid summers and mild winters. The summer climate is mostly warm and humid at 22-26°C, and winters are mild with an average range of 9-16°C.
Districts
Kawerau
Opotiki
Rotorua
Western Bay of Plenty
Whakatane
Bay of Plenty Attractions and Activities
The Bay of Plenty offers all sorts of opportunities along its spectacular coastline for coastal sports such as swimming and surfing, sailing and boating, diving and fishing.
Similarly there are a wide range of activities inland in the region including tramping and hiking, white water rafting, kayaking, skiing on snow and water, and hunting. There are plenty of short and long New Zealand bush and coastal walks to enjoy for all fitness levels, fantastic fly fishing opportunities, along with golf courses and wineries.
Tauranga - 50 Best Things to do in Tauranga
Tauranga and Rotorua are well known for their many events related to food and wine, music, arts and culture, and sporting events. The café and restaurant scenes, nightlife, and excellent shopping are thriving in both these towns and in the coastal Whakatane.
A small sample...
Kaimai Mamaku Forest Park
Mitai Maori Village Rainbow Springs, Rotorua
Mt Maunganui Tauranga
Rainbow Springs Nature Park Rotorua
Rotorua Thermal Areas
Tauranga - Things to do in Tauranga
Te Wairoa Buried Village Rotorua, Rotorua
Wairere Falls
Waimangu Thermal Valley
White Island Tours, Whakatane (no longer available due to volcanic activity).
Giant Redwood Forest
Places in Bay of Plenty Region
Katikati
Kawerau
Mt Maunganui
Murupara and Whirinaki Forest Park
Ohiwa Beach
Ohope Beach
Opotiki
Papamoa
Rotorua
Hamurana
Lake Okareka
Lake Rotoiti
Lake Tarawera
Lake Tikitapu (Blue Lake)
Ngongotaha
Paradise Valley
Rotorua City
Tauranga
Mt Maunganui
Tauranga
Tauranga Airport
Tauranga New Zealand Map
Tauranga Things to Do
Te Kaha
Te Puke
Waihau Bay
Waihi Beach
Whakaari - White Island
Whakatane
Bay of Plenty Location Map