Paparoa National Park New Zealand
Paparoa National Park is where you will find those famous limestone Pancake Rocks in New Zealand, on the West coast of the South Island.
Rock Formations West Coast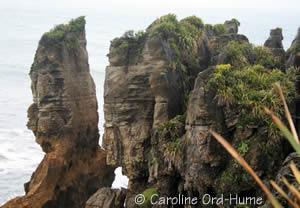 You may also have heard of the blow holes? Find them at Dolomite Point near Punakaiki, and if you go at high tide you'll be in for a treat.
I went to Dolomite Point when it was pouring with rain and blowing a gale, what a wild day that was and an experience I wouldn't have wanted to miss!
There is a visitor centre at Punakaiki to help you explore and discover the areas attractions and wild landscapes.
Attractions in Paparoa National Park
The Paparoa Park was set up in 1987 and it's probably a good job that it was.
Limestone formations can be damaged really easily and it would be a real shame if unique attractions such as the Pancake Rocks and Blowholes at Dolomite Point accidentally got damaged by the thousands of visitors that go there every year.
The attraction of the West coast is its complete wild nature and ruggedness. On a day when the weather is at its worst the coastline can be even more fascinating... well it is for me anyway, I love wind and rain and the effect it has on the sea and rivers.
Rugged and Wild West Coast South of Pancake Rocks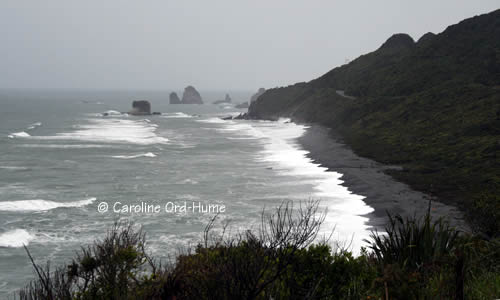 This is a place where you'll be amazed by the cliffs and landforms, canyons and caves, how the sea plays its part in forming the coastline, and the Papamoa Range running through the Park.
The climate is mild which leads to the type of vegetation you'll find such as sub-tropical looking Nikau Palms and big Rata trees towering above. In the forests you'll come across Rimu, Red Beech and Silver Beech.
The wildlife in the forests of Paparoa National Park includes native birds such as tui, kererū, korimako, and then there is the titi/petrel colony of burrowing seabirds that only come inland to breed just south of Punakaiki River.
Activities in Paparoa National Park
The main activities are the walks, canoeing, and caving.
Walking / Hiking
Popular coastal walks for all ages such as the Punakaiki Pancake Rocks Walk to the Blowholes, which takes around 20 minutes to complete.
There is also a 30 minute return walk along the Truman Track that is also suitable for anyone.
For those looking for long walks, the Pororari River Track along a limestone gorge will keep you occupied for around 2 and half hours.
There is one track that takes two to three days to complete and t is called Inland Pack Track. This track through the Paparoa Park has historic significance related to time of the gold rush.
Kayaking
Canoeing trips along the Pororari River can be made in hired kayaks with local guides. When hiring a kayak locally everything will be catered for, including life jackets, wet suits, and a container to protect your camera and/or lunch from the water. So don't worry about not having the right gear with you or having to carry it on your holiday.
Caving
Caving for all abilities, from beginners to cavers with more experience, is available in the Park. For beginners the Punakaiki Cavern provides a safe caving experience and it is easily accessible being situated right by the main SH6 road.
Another publically accessible cave is Fox River Tourist Cave.
For other caves, some of which you need a permit to enter and/or be on a guided tour, such as Te Ananui, go to the visitor centre in Punakaiki to get full details.
Safety
Enjoying outdoor activities in NZ depends on safety awareness, please see the NZ Land Safety Code.
Accommodation in Paparoa National Park
There is plenty of choice for accommodation in Punakaiki or close by. Motels, hotels, camp sites, backpackers, hostels, lodges, bed and breakfasts, home stays, and luxury hideaways.
Paparoa National Park Location
The map below shows the location of Paparoa National Park, just up from Greymouth, and the location of nearby national parks such as Kahurangi futher north, and Nelson Lakes inland from the coast.
List of all national parks in New Zealand - Walks - Birds and Animals