West Coast New Zealand,
Te Tai Poutini, South Island
The West Coast region of NZ, sometimes called Westland New Zealand, is a long narrow strip on the South Island's west coast between the Tasman Sea and the Southern Alps, from the north at Kahurangi Point and the south at Awarua Point.
Hokitika Gorge, West Coast, South Island, NZ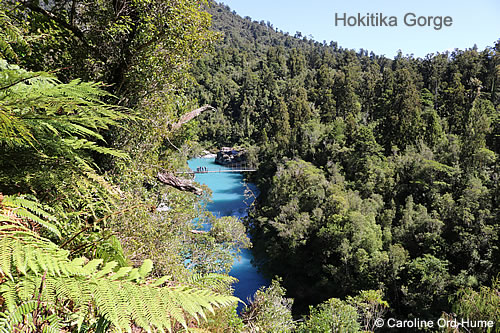 Much of the landscape is rugged and scenic, lots of native bush, with a backdrop of mountains or sea.
West Coast Climate
The West Coast receives a high rate of rainfall in comparison to the other side of the Southern Alps in the east.
The location of the Alps and prevailing north westerly winds means a lot of rain is dropped on the west coast. However, this amount of rain maintains the lush bushland and native rain forest that the region is well known for; it is what makes the West Coast what it is!
West Coast NZ Attractions
Attractions to this wild scenic West Coast include the Heaphy Track in Kahurangi National Park in the north, Pancake Rocks, Buller River and Gorge, New Zealand jade and New Zealand gold.
The West Coast has a lot of gold mining history from the New Zealand gold rush, with numerous places where you are permitted to pan for gold in allocated stretches of several rivers and streams. Gold panning is one of my favourite things to do in New Zealand and in the South Island there is no shortage of places to have a go. The Department of Conservation have a list along with maps of where looking for alluvial gold is permitted and some places even have a DOC campsite near to the river such as at Goldsborough.
Further down the coast there is Glacier country where you can see the ends of Franz Josef Glacier and Fox Glacier without having to pay for a helicopter, and Haast Pass in the south of the region, a route through to the regions of Otago and Southland.
Westland New Zealand, South Island, NZ
West Coast Wildlife
Hector's Dolphins
West Coast, South Island, NZ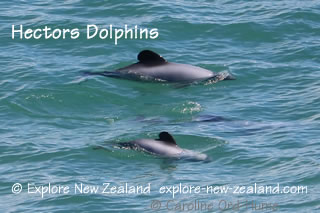 There are many opportunities to see wildlife down the coast and inland. Dolphins and Whales can often be seen off the coast, with Hector's Dolphins visiting the same areas near to the coast.
A photo of Hector's Dolphins on this page was taken from Pancake Rocks where the Dolphins were playing in the sea for more than an hour.
The only place in New Zealand where White Heron breed at Okarito can be visited by taking a tour from Whataroa. And you can find glow worm dells to visit in the dark such as the one at Hokitika.
Districts
Buller District
Grey District
Westland District
Places in West Coast New Zealand - Alphabetical
Buller Gorge
Charleston
Fox Glacier
Franz Josef Glacier
Greymouth
Haast
Harihari
Karamea
Maruia
Moana - Lake Brunner
Mokihinui
Okarito
Punakaiki
Reefton
Ross
Seddonville
Waimarie
Westport
Whataroa
Things to Do and Places to Go on the West Coast NZ
Pancake Rocks Blowhole, Punakaiki, West Coast, South Island, NZ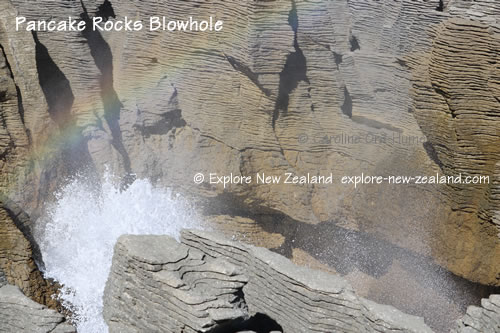 Te Wahipounamu - South West New Zealand UNESCO World Heritage Site that includes the four national parks, Westland Tai Poutini, Aoraki/Mount Cook, Mount Aspiring and Fiordland. This is a world heritage site with eighty million years' development of mountains, valleys, lakes, glaciers, fiords, along with plants and unique wildlife.
List of some of the attractions roughly from north to south of the West Coast NZ region.
Karamea

Karamea Centennial Museum

Granity - Whale and Dolphin watching
Westport

Coaltown Museum
Cape Foulwind
Buller River Jet Boat Rides
Buller River Jet Ski Tours
Buller River Mouth Wildlife Refuge
Lower Buller Gorge Scenic Reserve

Reefton
Charleston Cave Rafting
Punakaiki
Greymouth

Jade Boulder Gallery
Grey River

Shantytown Historic Gold Town
Lake Brunner
Goldsborough

Lake Kaniere, West Coast, NZ

Hokitika

Jade / Greenstone
Whitebaiting and fishing
Glow Worm Dell
Hokitika Gorge Scenic Reserve
Dorothy Falls
Lake Kaniere Scenic Reserve

Ross Historic Gold Mining Town
Whataroa Tours to White Heron Nesting Site
Franz Josef Glacier
Fox Glacier
Gillespies Beach Old Gold Mining Settlement
Monro Beach Penguins
Knights Point Lookout
Haast

Haast River Scenic Boat Cruises

Jackson Bay

Jackson Head
Penguins and Seals

Haast Pass
West Coast NZ Map