Rakiura Track Stewart Island New Zealand
The Rakiura Track is on New Zealand's Stewart Island so the first thing to do is decide how you are going to travel to the Island. You can choose to take a one hour ferry ride from Bluff or alternatively, a 20 minute flight from Invercargil will be slightly quicker.
Stewart Island, South
3 days
36 km
Scroll for larger interactive map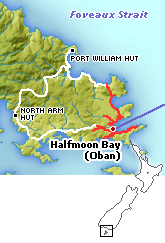 Bookings for huts and campsites are required
This Stewart Island Great Walk is in the newest and furthest south national park in New Zealand, the Rakiura National Park. The track is open to be walked all year round and is suitable for most hikers that have a moderate level of fitness.
The name 'Rakiura', translates from Maori into 'The Land of Glowing Skies'. This is most likely due to the Southern Lights Aurora Australis or spectacular sunsets. Two other names given by the Maori are Te Puka a te Waka a Māui, translated 'The Anchor of Māui's Canoe', a Maori Legend about how New Zealand was discovered by Māui). The other name from an earlier era was Motunui, meaning 'Large Island'.
Short Walks and Long Hikes on Stewart Island
There are also a few short half or one day walks you can take on the Island if you don't want to do the full three day Rakiura Track walk.
Or for longer tramping tracks try...
Southern Circuit - 6-9 days, 105km.
North West Circuit - 10-12 days, 125km.
As an Amazon Associate I earn from qualifying purchases
GREAT WALKS OF NEW ZEALAND - Craig Potton with Shaun Barnett
DAY WALKS IN NEW ZEALAND 100 GREAT TRACKS - Shaun Barnett & Geographx
There is a visitor centre provided by the Department of Conservation at Halfmoon Bay, along with accommodation, a store, and post office. Bookings for huts and camp sites can be made with the DOC and the DOC website give information about the fees.
Rakiura Track Map and Location