Car Hire New Zealand
Getting a Great Deal
Car hire New Zealand is a cost effective means of travel. If you also buy a tent, you can get around the entire country relatively cheap on a self-drive holiday.
This page will delve into some of the more important ideas to keep in mind when looking for a car to hire and when driving around New Zealand.
Maybe you prefer a Campervan or Motorhome.
Nice Unbranded Hire Car in New Zealand
Organizing a Car Hire Deal
Obviously, price is going to be a big consideration when you hire a car in New Zealand. But keep in mind the price tag isn't always straightforward, and you also have to take fuel economy into account.
For instance, some companies will require a deposit, meaning you'll need a bigger lump sum up front to rent a car. This may not be ideal if you're planning to come to NZ on a working holiday and fund your travel from your earnings. If you do rent a car that requires a deposit, look carefully at the terms and conditions involved - you don't want to lose the deposit over something minor just because you didn't read the fine print.
Take into consideration where you're most likely to be driving when you choose a vehicle. If you plan on doing some off-road driving, obviously you'll want a 4x4. But such a car would be unnecessarily expensive to run if you want to spend most of your time in the cities.
If you're a backpacker, you may also want to consider whether even cheap car hire New Zealand is really your best option. It may even turn out to be cheaper to buy an old used car if you plan to travel for more than a few weeks. The only issue there is that you'll need to be pretty clued in on what to look for when buying a car to ensure you don't end up getting ripped off. With rental cars, you know you're getting a quality vehicle.
Discounts on Related Services
The various car rental companies will offer discounts on other travel and related services and products, like ferry tickets and fuel. This is another thing you should look at over and above the per-day price and any deposit fees.
Driving a Hired Car
Of course, New Zealanders drive on the left side of the road so that's the first thing many travellers must adjust to.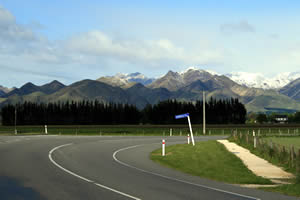 It's always a good idea to shell out the extra money required for insurance. If you have an accident without insurance, it can quickly put an end to your holiday.
Although rental car companies give foreign drivers a safety briefing, it's still a good idea to pick up a copy of the New Zealand Road Code and give it a thorough read. Even if you're coming from Australia, there are some subtle differences to a few of the turning and give way rules in New Zealand that can throw you off.
New Zealand is not a large country when comparing with some other countries and therefore a two to three week tour is achievable, although three weeks or more is best. Because it's quite a small country driving and touring is easy. The network of roads and major cross country routes provide easy driving. In many parts of the country there is very little traffic with most traffic occurring in and around the cities, not on the country roads.
If you are arriving in Auckland airport but departing from another airport such as Christchurch, you could look at car rental Auckland that have a depot in Christchurch where you can drop of the car instead of having to return it to Auckland. If you choose this type of option don't forget to enquire to if there are any additional charges for this.
If the car hire company have a depot in each New Zealand location they should not necessarily need to charge you any extra. If they do not have another depot you may be charged for the vehicle being picked up and returned to the depot Auckland.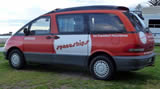 You may also be interested Campervans.
Touring
For good tour maps, see my Recommended Road Maps