Auckland New Zealand
Auckland is the largest city in New Zealand, has an international airport, and for a lot of visitors landing at Auckland International Airport, it will be the first sight of the landscape of NZ.
Built on land between two big harbours, Auckland is known as the City of Sails due to the high number of yachts, ships, and boats on the water.
View of Auckland City New Zealand
Some of the things you will see during a flight landing at Auckland during daylight are the harbours, over 50 extinct volcanoes, the downtown Auckland skyscrapers and iconic Sky Tower. This sprawling city of colourful properties is surrounded by a large number of beaches and islands.
It all depends on how much time you have and what your interests are but there is plenty on offer in and around Auckland City and region.
Auckland Population
Although this is a large city in New Zealand, compared with other cities in the world, it has one of the lowest population densities.
The land area covered by Auckland, including urban areas around the city, is the same size as London but with a population of only 1,582,028 million (2019), estimated to increase to be over 1.6 million in 2020.
Auckland Attractions and Activities
The majority of visitors to Auckland are short stay visitors who dash around the City to see the main sights and attractions such as; Auckland Museum, the harbours, the City centre, Sky Tower, places such as Ponsonby, Parnell, Newmarket and Devonport.
Activities include walking around the numerous parks and beaches, markets and galleries, or taking trips to the islands of the Hauraki Gulf such as Great Barrier Island, Rotoroa, Waiheke, Rangitoto and Motutapu Islands.
Auckland Park Garden Fountain and Pond, The Domain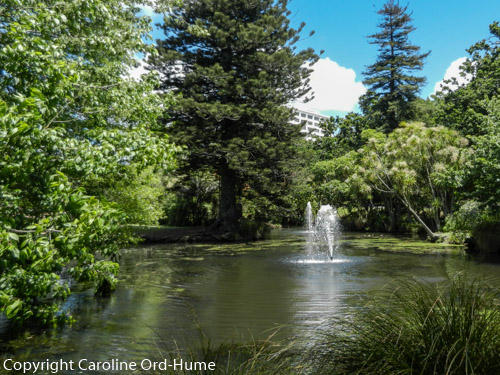 You have options to organise your own sightseeing and activities or participate in one of the many guided tours that are on offer in Auckland.
A guided tour is an easy way to fit in your specific interests in one go, such as wineries or activities tours, historic and cultural walks, or take an organised trip from Auckland to another location such as Rotorua.
What's the Time in Auckland?
The time in Auckland New Zealand is...
History and Culture
If you want to learn about New Zealand heritage and cultural origins, Auckland Museum is an amazing place set in a park with views over the City. The museum also puts on Māori cultural performances every day.
Tourist Information for Auckland
If you arrive via the airport you will be able to pick up a tourist brochure/magazine or call in to the airport I-SITE centre in the arrivals hall. There are three Auckland i-SITE Visitor Information Centres at
Auckland International Airport I-SITE Centre
Auckland International Airport, Arrivals Hall, Manukau. Phone: +64 9 365 9925
Princes Wharf I-SITE Centre
Shop 2, Shed 19, 137 Quay Street, Princes Wharf, Downtown. Phone: +64 9 365 9914
SkyCity I-SITE Centre
Lower Ground Floor, SkyCity Hotel/Sky Tower Entrance, Corner of Federal and Victoria Street, Auckland Central. Phone: +64 9 365 9918
Tourist Information for Auckland and Region
Time in Auckland New Zealand