Lyttelton New Zealand Harbour / Whakaraupō, Christchurch
The creation of Lyttelton Harbour docks and port was taking advantage of a steep sided extinct volcanic crater full of deep water providing excellent anchorage for ships.

View of Lyttelton Harbour from Mount Pleasant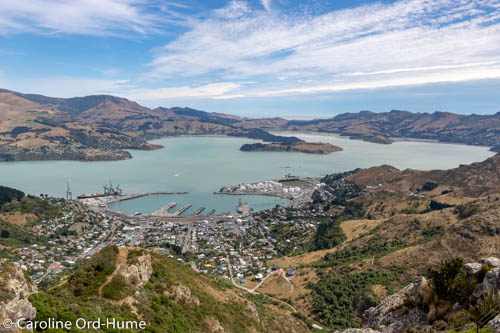 The small port town of Lyttelton, built in its picturesque setting on the side of the Port Hills, is merely 12km southeast from the middle of Christchurch.
Lyttelton Harbour has plenty to offer for those who enjoy being on or around the water, such as yachting and water skiing, fishing, bays and beaches for swimming.
At Lyttelton Port and on the wharf you can find places to eat and drink, and a local farmers market to get some provisions.
Tunnel to Lyttelton
It only takes minutes to get to Lyttelton through the longest road tunnel in New Zealand, see below for directions.
The Port of Lyttelton greets you as you come out of the tunnel, a busy port with extensive shipping services bringing in trade to Canterbury and Christchurch every day of the year.
Lyttelton Tours and Activities
Christchurch Gondola
Diamond Harbour
Jack Tar Sailing
Lyttelton Torpedo Boat Museum
Norman Kirk Memorial Summer Pool
Orton Bradley Park
Poetry Tour - Walking
Preserved Cook School and Shop
Quail Island
She Universe Café and Chocolatier School
Steam Tug Lyttelton
Lyttelton Walking and Hiking
Hays Bay to Church Bay
Orton Bradley Park
Packhorse Hut
Quail Island
Rod Donald Hut
Stoddart Point Reserve Upoko o Kuri
Trails and Hill Walking
Pick up a map leaflet of Lyttelton Town and Hill Walks to find out where there are trails and tracks to take you… into the surrounding hills and/or along the coastline from Lyttelton town and port. Get the brochure from the Lyttelton Information Centre, 20 Oxford Street, Lyttelton, or the Department of Conservation (DOC) Visitor Centre, 28 Worcester Boulevard, Christchurch.
Coastal Walk to Pony Point Reserve
Nooks and Crannies Walk
Bridle Path and Stan Helms - Pioneer Women's Memorial
Foreshore Walkway Naval Point
Major Hornbrook Reserve - Gondola
Ōhinehou Skyline Circuit
Urumau Reserve Loop - Gun Emplacements
Whakaraupo Loop
Or join in with the Banks Peninsula Walking Festival in November of every year.
Also see Banks Peninsula Walks for more hiking and tramping on the peninsula.
Lyttelton Historical Sites
Allandale District Lockup
Antarctic Port Sled Dog Statue
Grubb Cottage
Lyttelton Railway Station Signal Box
Lyttelton Torpedo Boat Museum
Mill House & Stone Cottage
Packhorse Hut
Pilgrims Rock
Quail Island
St Saviour's Chapel
Steam Tug Lyttelton
Stoddart Cottage
Scenic Places and Beaches
Albion Square
Allandale Reserve
Cass Bay - Motu Kauati-rahi
Corsair Bay - Motu Kauati-iti
Hays bay to Church bay
Orton Bradley Park
Pony Point
Purau Bay
Stoddart Point Reserve Upoko o Kuri
Getting to Lyttelton
To drive to Lyttelton from Christchurch you need to take SH74. Alternatively take SH76 which then joins onto SH74.
SH74 is otherwise named Tunnel Road and will take you past Christchurch Gondola to drive through the longest tunnel through hills in New Zealand that goes to Lyttelton Port and Lyttelton Harbour.
Christchurch City Roads and Routes

Lyttelton Port, Docks, Town, and Lyttelton Harbour, New Zealand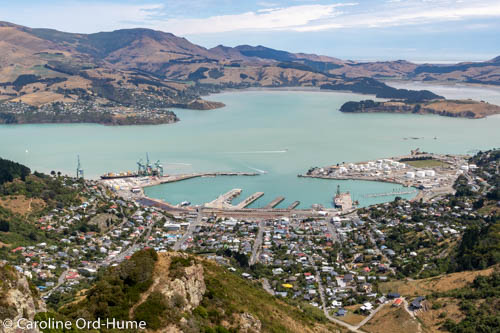 Events
Check out Project Lyttelton to find out what events are on at different times of the year.