Milford Track New Zealand
The 53.5 kilometre Milford Track, New Zealand, is located right in the Fiordland National Park that is also part of Te Wāhipounamu the South West New Zealand World Heritage Area. This is one of the most famous of the nine Great Walks.
View of Fiordland from Milford Track Start at Lake Te Anau
South Island
4 Days
53.5 km
Bookings required for huts and campsites
This New Zealand Great Walk is one you can do with a professionally guided group or just hike without a guide.
Situated in the South West of the New Zealand South Island, the beginning of the track is located at one end of Lake Te Anau and you will complete your walk at Milford Sound.
So, it starts near to the closest township, Te Anau, where there is a convenient range of facilities such as; equipment hiring services, shopping, and accommodation.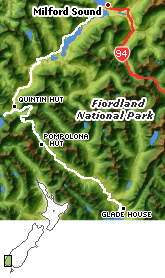 One day guided walks are also available starting at either Lake Te Anau or Milford Sound ends of the tracks. It's possible to boo walk / kayaking mixed excursions too.
If you are interested in doing any fishing in the area of Arthur and Clinton rivers, licences are required in the Fiordland National Park. Don't forget to get a fishing licence and check any regulations that are in place to protect the area and wildlife.
There are numerous conservation programmes in this area to preserve the New Zealand natural heritage.
As an Amazon Associate I earn from qualifying purchases
Book - GREAT WALKS OF NEW ZEALAND - Craig Potton with Shaun Barnett
Managed by the Department of Conservation on behalf of the New Zealand public, it is essential that you book huts and camp sites.
It is also worth noting that the DOC approve concessions for guides and overnight walks and the only concession for the Milford Track has been given to Tourism Milford Ltd, Ultimate Hikes.
Tours