New Zealand Discount Travel
Getting Around on a Budget
New Zealand discount travel deals are easy to come by if you're smart about making bookings.
Getting onto a company's website to book can often be a great way to save yourself some cash - likewise, booking multiple trips at the same time can help you qualify for discounts.
Many New Zealand tourism companies will also refer business to each other, so it's a good idea to ask when making bookings if using a particular service will open up any discounts for you.
Discount Train Travel
Trains aren't really the cheapest way to get around the country if your budget is your biggest consideration - but if you want to do some sightseeing as you go, booking some discount train travel can be a good idea.
Tranz Scenic offers the Scenic Rail Pass deal which gives you access to multiple train journeys for one price. But again, if you're just trying to get from A to B, there are usually cheaper ways to do it than by train. The trains in New Zealand are more of a tourism experience rather than a budget transport option.
Discount Bus Travel
Stray Travel is one service providing discount bus fares and a hop on and off experience for flexible travel. This is a good way to take in a lot of New Zealand in a short space of time, and on a tight budget. Stray Travel tends to attract a lot of backpackers and younger people. They are constantly running special deals so are definitely worth checking out for budget travellers looking for New Zealand discount travel.
Another bus company offering the same hop on and off service is the Kiwi Experience. Both the above bus services are more for young people though, particularly the Kiwi Experience. If you are over 30 you probably won't like it as the buses are full of under 30 year olds.
InterCity buses also offer discounts. This outfit is less of a tourist operation and is generally "no frills." That means there's big savings to be made, especially if you book online. Booking in advance is another key to savings - the further ahead you book, the more you can save, with big savings if you really get booked in early. They also have a discount deal for YHA backpackers (you need to show proof of being a YHA member to qualify).
Bus Travel for more...
Discount Air Travel: Grab a Seat
Flying can actually be a really affordable way to get around New Zealand if you're happy to spend time hunting out the bargains. Grab A Seat is Air New Zealand's bargain basement flights website. There are always a few cheap seats up for grabs for various flights around the country. They will even occasionally put one-dollar seats up for grabs, but getting hold of these is not easy to do - they tend to sell out pretty quickly.
Grab A Seat is best for travel within New Zealand, although it does feature a few international deals - but these are typically limited to flights to and from Australia, Fiji, Samoa and other Pacific countries. To get a discount on flights to New Zealand from further abroad, you can check out the travel packages available from Air NZ or local travel agencies like Flight Centre.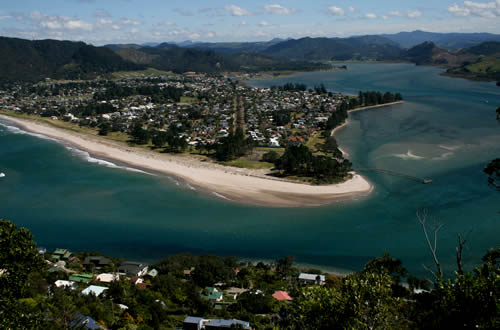 Mount Paku view, Coromandel Peninsula, North Island, New Zealand