Coromandel Peninsula New Zealand
The North Island Coromandel Peninsula is a bush clad part of New Zealand that has glorious beaches and scenic coastlines, thermal springs, mountains and forests, and historic interests that includes substantial gold mining heritage.
The Coromandel is easily accessible from Auckland and the Bay of Plenty.
Cathedral Cove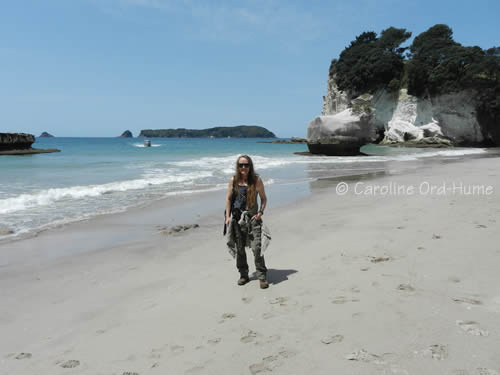 Two of the most well-known and popular destinations are the much loved Hot Water Beach, where you can dig your own hot pool in the sand at low tide, and Cathedral Cove that became an even more visited location due to it's use as a movie set in The Lion The Witch and The Wardrobe series.
Thames is an historic former gold mining town often considered as the gateway to the Coromandel, along with the town of Waihi which has open pit gold mining and is also at the lower end of the Coromandel Peninsula.
Both are good places to start if you have an interest in the history behind regions you are visiting in New Zealand.
Cathedral Cove, Coromandel Peninsula
The Coromandel Range forms the backbone of the Peninsula, with the West and East coasts being somewhat different in terrain and their attraction to visitors.
Coromandel Peninsula, East coast view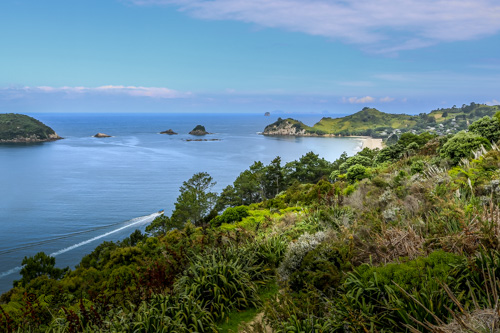 West Coast of the Coromandel Peninsula
The West coast has more steep cliffs dropping off to the sea with good access to the mountains and hills, forests and ancient Kauri trees, and the towns of Thames and Coromandel Town.
Although there are beaches on the West coast they are not so good for swimming or water sports.
East Coast of the Coromandel Peninsula
The East coast has a spectacular coastline of long sandy beaches suitable for swimming with towns such as Whitianga and Whangamata offering plenty of water sports.
All along the coast there are places you can drive or walk to absorb the incredible views this part of New Zealand is known for.
Coromandel Peninsula Marine Reserve
Attractions and Places to go on the Coromandel Peninsula
There is a map below to help you find these attractions and places to visit...
Burralo Beach Whitianga
Cathedral Cove
Colville
Cooks Beach and Cooks Beach Estuary
Coromandel Forest Park
Coromandel Town
Eggcentric Cafe
Far North
Ferry Landing
Flaxmill Bay
Front Beach
Gold Mines
Hahei and Beach
Hot Water Beach
Karangahake Gorge
Kuaotunu
Marine Reserves
Matarangi
Mercury Bay
Opito Bay
Oputere Beach Wildlife Refuge
Pauanui
Purangi Winery
Shakespeare Cliff
Slipper Island
Tairua
Te Kouma
Thames
Waihi
Walks
Whangamata
Whangapoua
Whenuakite
Whitianga
Map of Coromandel Peninsula
Coromandel Accommodation
As the Coromandel Peninsula is one of the most popular holiday spots for New Zealanders and tourists, be aware that during peak season between the end of December and end of March you should definitely book your accommodation or camping to avoid disappointment. This destination is just a few hours south from Auckland City which makes it a choice of Aucklanders. Competition for accommodation in mid-summer can mean some campsites get fully booked quite early.