Otago New Zealand
Otago is a large region that has a landscape changing from alpine mountains and glacial lakes in the west to drylands in Central Otago, with the northern boundary being parts of the Waitaki River and the southern boundary being the Catlins and Pacific Ocean in the south east of New Zealand's South Island.
Central Otago, New Zealand
The Otago region includes many popular and well known places to visit such as Queenstown, Wanaka, Dunedin, Cromwell, Alexandra, Oamaru, Moeraki, and The Catlins to name just a few.
Some of these places, such as Queenstown, are heaving with tourists whereas others, such as the Catlins, are a lot quieter and less visited.
For wildlife and nature, Otago is definitely penguin country with opportunities to see Blue Penguins and Yellow-eyed Penguins, and look out for rare Australasian crested grebe and other native birds.
Yellow-eyed Penguin hoiho, Porpoise Bay, Catlins, New Zealand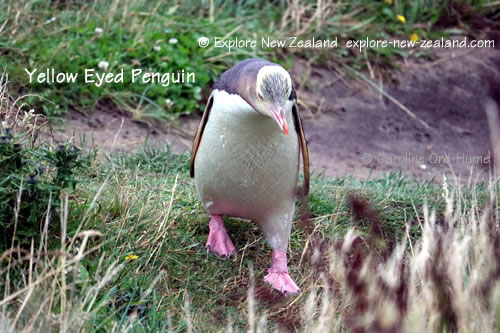 At Oamaru and Dunedin for example, there are colonies of both Little Blue Penguins and Yellow-eyed Penguins species, and on the Dunedin Otago Peninsula you can also see the magnificent Northern Royal Albatross at the Royal Albatross Centre.
In Otago Harbour, Dunedin, you will often be able to spy dolphins, and further south in the Catlins at Porpoise Bay there are pods of rare Hector's Dolphins that often swim among people in the shallows of the bay, coming to within a few feet of the beach!
Inland in Central Otago region there are an abundance of historic places of interest, particularly from the New Zealand gold rush era such as Arrowtown, Queenstown, Cromwell, Clyde, Alexandra, and Lawrence.
Districts and Places in Otago Region
Districts
Central Otago
Clutha
Queenstown Lakes
Waitaki
Otago Towns and Places
Balclutha
Central Otago

Alexandra
Bannockburn
Clyde
Ettrick
Lawrence
Millers Flat
Naseby
Omakau
Oturehua
Ranfurly
Roxburgh

Clutha
Cromwell
Kurow
Middlemarch
Milton
Moeraki
North Catlins
Omarama
Palmerston
Waikouaiti
Waitaki
Dunedin

Dunedin Airport
Blueskin Bay
Central Dunedin
Dunedin City
Fairfield
Green Island
Mosgiel
North Dunedin
Otago Peninsula
Port Chalmers
South Dunedin
Waldronville

Queenstown Lakes

Queenstown Airport
Arrowtown
Arthurs Point
Cardrona
Coronet Peak
Frankton
Gibbston Valley
Glenorchy
Kelvin Heights
Kingston
Lake Hayes
Lake Wakatipu
Queenstown Town
Skippers Canyon
The Remarkables

Wanaka

Matukituki Valley
Albert Town
Cardrona
Lake Hawea
Makarora
Mt Aspiring
Treble Cone
Wanaka Town
The southwest boundary of Otago meets with the Southland New Zealand region boundary.
Otago Attractions and Activities
View From Florence Hill Lookout, Catlins, New Zealand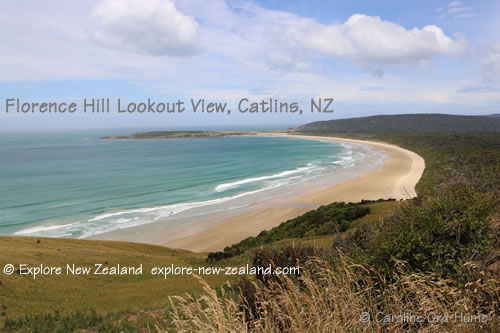 Otago Central Rail Trail
Central Otago Wine Region
National Park
Along Waitaki River
Takiroa Maori Rock Art
Vanished World Fossil Trail Information Centre
Meridian Energy Benmore Power Station
Oamaru
Oamaru Historic Town Buildings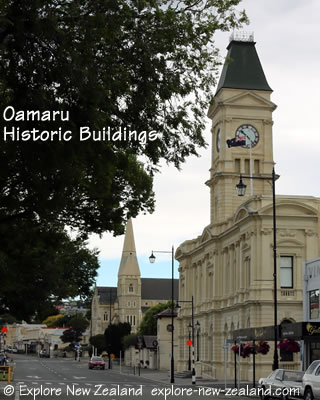 Oamaru Gardens
Forrester Art Gallery
Bushy Beach Scenic Reserve
Naseby
Early Settlers Museum
Naseby Motoring Museum
Sun Dried Mud Brick Buildings Old Gold Mine Town
Saint Bathans
Clyde
Clyde Dam Viewing Area
Stone Buildings dated 1863
Lawrence
Gabriels Gully – Historic Gold Mining
Museum
Alexandra
Wineries
Orchards
Mountain Bikers Heaven
Cromwell
Old Cromwell Town
Goldfields Mining Centre
Wineries
Wanaka
Lake Wanaka
Puzzling World
Transport and Toy Museum
Fighter Pilots Museum
Cardrona
Cardrona Skifield
Horse Riding
Waiorau Snow Farm
Arrowtown
Old Gold Mining Town
Gold Panning
Lakes District Museum
Queenstown
Lake Wakatipu
Queenstown International Airport
Remarkables Skifield
Coronet Peak Skifield
TSS Earnslaw Cruise
Moeraki
Moeraki Boulders
Scenic Reserves
Palmerston
Goldfields Heritage Trail
Palmerston Butterfly and Bird Haven
Scenic Reserves
Dunedin
Royal Albatross Centre / Albatross Colony
Penguin Place
Penguin Colonies
Aramoana Conservation Area
Scenic Reserves
Botanic Gardens
Queens Gardens
Glenfalloch Woodland Gardens
Historical Sites
Otago Museum
Early Settlers Museum and Hall
Historic Railway Station
Otago Harbour
Port Chalmers
Dunedin Airport
Owaka
Owaka Museum
Nugget Point
Lighthouse
Penguns, Sea Lions, Elephan Seals, Fur Seals
Jacks Blowhole
Purakaunui Falls
Matai Falls
Horseshoe Falls
Catlins
Southern Scenic Route
Catlins Conservation Park
Kaka Point
Florence Hill Lookout
Cannibal Bay
Cathedral Caves
McLean Falls
Matai Falls
Horseshoe Falls
Lord of the Rings Filming Locations
Various Scenes of Middle Earth
Isengard
Lothlorien
Amon Hen
Rugged Country South of Rivendell
Flight to the Ford
Great East Road
Ford of Bruinen
Gladden Fields
Ithilien
Dimrill Dale
Pillars of the Kings
River Anduin
Plains of Rohan
Rohirrim Village
All Lord of the Rings Filming Locations
Otago Location Map