Little Black Shag - Cormorant
The Little Black Shag Kawau Tūi (Phalacrocorax sulcirostri), is another of the smaller species of shag birds in New Zealand.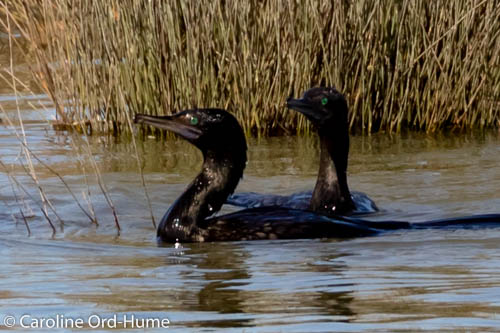 These stunning small black cormorants are instantly recognisable in adult form from their glossy black plumage that sometimes shows a green sheen on the upper side of the wings when it catches a certain light, along with black legs and feet, dark skin on the face with black and dark grey bill, and the most amazing green eyes.
They have no white plumage at all and have a shorter tail than the similar sized Little Shag.
Little Black Shag drying its wings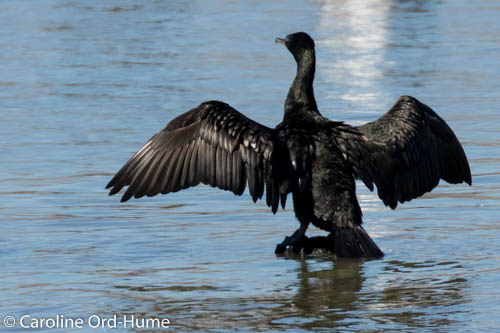 Little Black Shag - (Phalacrocorax sulcirostris). Family: Phalacrocoracidae
This little all black shag species is named and recognised from its small size and colour. Names the birds are recognised by are: Kawau tūi, Little Black Shag, Little Black Cormorant, Kawau tui.
Habitat and Distribution
The habitats of Little Black Shags are based mainly around coastal estuaries, inlets, and harbours but they can also be found at home inland locations such as lakes, ponds, and sewerage ponds. The species is gregarious and likely to be seen roosting in flocks rather than as individuals.
Little Black Shag, Kawau Tūi, taking off on Avon River, Christchurch, NZ
Little Black Shags live on both North and South Islands but currently there is a higher population on the North Island. Reports of Little Black Shag at South Island locations are growing. There is no research into population figures but they are said to be increasing in number overall and are guessed at numbering a few thousand at this time.
Locations you may see Little Black Shag range from Northland down to Wellington, Wairarapa, Tauranga Harbour, and the lakes around Rotorua and Taupo area, North Island. On the South Island there is definitely Little Black Shag birds by the Avon River, nr Dyers Rd, Christchurch… as that is where I observed them and took some of the photos on this page.
Little Black Shag Description and Identification
Two Little Black Shags showing the distinctive green eyes. Kawau Tūi, Christchurch, New Zealand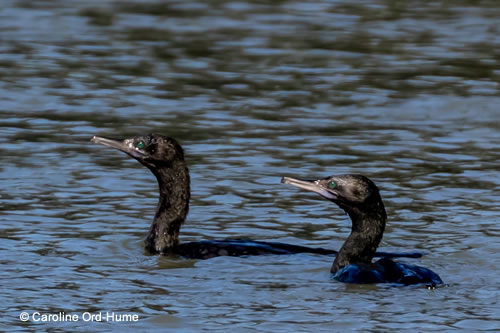 Both male and female adult Little Black Shag plumage is black, as are the legs and feet. The upper side of their wings has a shiny dark green sheen that can be seen in certain light when they are flying. Their facial skin and bill are dark grey to black; they have a bright green iris which gives them stunning green eyes. The tubercles circling the green eyes are a blue-green colour. Juvenile Little Black Shags have dark brown to black feathers until they get the adult all black plumage.
These shags are small and a similar size to the Little Shag. Much smaller than the large New Zealand Black Shag species.
These cormorants will roost and/or fly in groups or flocks which can number just a few up to a hundred. When flying in groups they will fly in a V shape, very close to the water surface when over water, and usually very close to each other too.
Diet
This black shag species will roost and feed in varying size groups or flocks with their diet consisting mostly of small fish. They forage and hunt for fish in marine coastal environments or inland freshwater sources such as lakes and ponds.
Kawau Tūi, Four Little Black Shags fishing and foraging as an organised group
Feeding and foraging for food in a co-operative and organised group is unique to this species of all the New Zealand shags. I have witnessed a group of four Little Black Shag diving and herding fish together at Christchurch.
Conservation Issues
One of the most dangerous times for a Little Black Shag will be when it is diving and foraging under water for food. Getting entangled in fishing nets is a hazard, particularly set nets that could ensnare and drown an entire group of shags feeding together.
Little Black Shag with a rubber or silicone charity bracelet stuck on it's neck.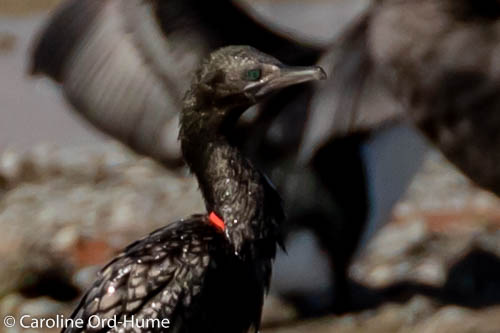 All kinds of rubbish can also be hazardous for these beautiful birds. One of the Christchurch shags I was photographing had a red plastic or rubber 'charity bracelet' around its neck. It no doubt picked this up whilst fishing under water and will probably live its whole life with that charity bracelet around its neck, unless the bracelet gets caught up on something under water and causes it to drown.
The usual predators are a threat, as with all shags, such as humans and dogs. Other predators such as rats may eat shags eggs or attack the young chicks but there is no study at this time specific to this species of shag.
Shag Species

List of New Zealand shag / cormorant species.
Birds and wildlife in NZ...
List of native New Zealand bird species and a list of wild animals in and around New Zealand