Southland New Zealand
Southland New Zealand includes the Fiordland National Park and Rakiura National Park on Stewart Island. The region extends from the west coast of Fiordland to the Catlins in the east.
The Darran Mountains north of Milford Sound and Eyre Mountains north of Lumsden provide northern boundaries, and Stewart Island / Rakiura the southernmost reach of Southland region.
Milford Sound Cruise in the Rain, Fiordland, New Zealand Southland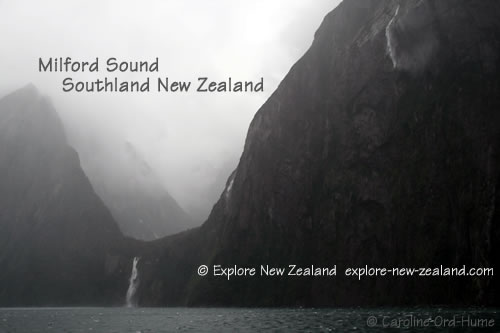 The interior of Fiordland, the largest National Park in New Zealand, is pretty much uninhabited.
However, in the peak summer season the most popular tracks and huts will be alive with visitors from around the world and New Zealanders on their summer holidays.
If you want to walk one of the famous tracks such as Routeburn Track and Milford Track you are advised to book huts or camping as they get fully booked well in advance.
Waterfall in Fiordland, Southland,
South Island, New Zealand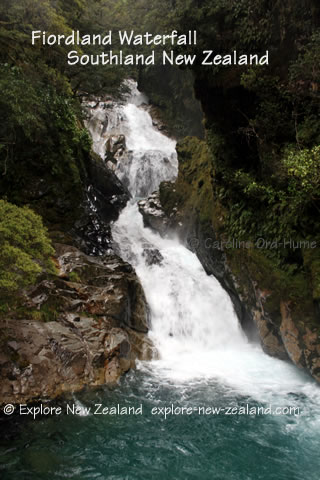 The Southland Plains of New Zealand Southland region, between the Waiau and Mataura rivers, are flat and fertile with an agricultural economy and Gore and Invercargill being the two main settlements.
Invercargill is the largest city in Southland, housing half of Southland's population, and it the most southern city in New Zealand. With a friendly welcome Invercargill is a great place to visit, use as a base for exploring the local area, and/or taking a trip to Stewart Island. Invercargill is along the Southern Scenic Route and has plenty of historic and cultural attractions for visitors to enjoy.
Stewart Island / Rakiura is within Southland New Zealand and is a popular destination for nature and wildlife, particularly in the height of the summer season. It is therefore advisable to book well in advance for accommodation, tours, and Rakiura Track huts.
Curio Bay, Porpoise Bay, and Waikawa are also in Southland along with part of the Catlins Conservation Park.
The southeast boundary of Southland meets with the south Otago region boundary.
There are several Lord of the Rings filming locations to visit in Southland, a list is provided below.
Southland New Zealand Climate
The climate of Southland is varied but it has a lower overall temperature range in comparison to the rest of New Zealand due to being closer to the South Pole, and is wetter than the rest of New Zealand with Fiordland being the wettest climate and highest rainfall, particularly at the higher altitudes of the mountains.
The coast tends to have a temperate coastal climate, and inland a more continental climate.
Southland New Zealand Driving
The Southern Scenic Route (SSR) through Southland and Otago provides over 600km of nature and culture with SSR taking you south from Dunedin, along the south coast through the Catlins to Invercargill, and up past Te Anau to Queenstown… or of course, the route can be done in reverse, from Queenstown to Dunedin. Information and leaflets can be obtained from i-SITE centres.
Districts
Southland
Gore
Invercargill
Places in Southland New Zealand
Bluff
Clifden
Fortrose
Gore
Invercargill
Lumsden
Manapouri
Orepuki
Riverton
South Catlins
Tuatapere
Winton
Wyndham

Southland New Zealand Attractions
Milford Road - Te Anau to Milford Sound - in Spring, Fiordland, Southland NZ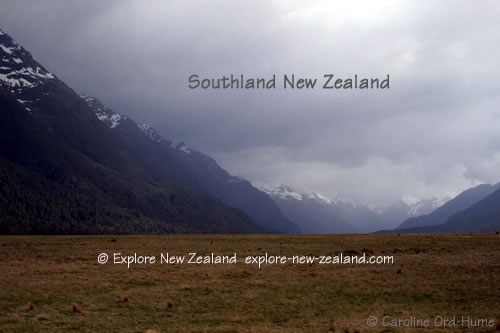 Southern Scenic Route
The Southern Scenic Route takes you through Otago and Southland regions.
Catlins (South West Catlins Coast)
Catlins Conservation Park
Niagara Falls
Waikawa

Waikawa Museum
Dolphin Information Centre
St Marys Anglican Church

Slope Point
Southernmost Point of the South Island
Te Wahipounamu
South West New Zealand UNESCO World Heritage Site encompasses four of New Zealands national parks; Westland Tai Poutini National Park, Aoraki/Mount Cook National Park, Mount Aspiring National Park and Fiordland National Park.
Invercargill
Sandy Point Domain Reserve
Queens Park
Thompson Bush
The Water Tower
Invercargill Brewery
Burt Munro - The World's Fastest Indian film is about Burt Munro.
E. Hayes and Sons Ltd - A collection of historic motorbikes and classic cars, including Burt
Munro's record breaking bike.
Southland Museum and Art Gallery
Anderson Park Art Gallery
Waihopai Walkway
Sandy Point / Oue
Greenpoint Reserve
Waituna Lagoon and Wetlands
Oreti Beach
Invercargill Airport
Bluff / Motupohue
Bluff Hill Reserve
Stirling Point
Oysters
Ferries to Stewart Island
Bluff Maritime Museum
Riverton
Oldest Town in the South Island
Stewart Island / Rakiura
North West Circuit
Oban - Halfmoon Bay
Rakiura Museum
Observation Rock
Ulva Island
Whalers Base
Mason Bay
Codfish Island (Whenua Hou) Nature Reserve
Muttonvird (Titi) Islands
Ferries to Bluff
Tracks
Hollyford Track
Dusky Track
Fiordland
Doubtful Sound
Manapouri
Hollyford Valley
Te Anau
Lake Te Anau - Largest Lake in the South Island
Te Anau Caves - Glow worms
Scenic Cruises
Jetboating
Kayaking
Tours
Wildlife Park
Fiordland Cinema
Manapouri
Lake Manapouri - Second Deepest Lake in New Zealand
Scenic Cruises
Milford Road
Milford Road - Te Anau to Milford Sound for descriptions of these locations:
Milford Sound
Kaka Creek Lookout
Milford Deep Underwater Observatory
Scenic Flights
Lady Bowen Falls
Giant Gate Falls
Mackay Falls
Sutherland Falls - Highest falls in New Zealand
Milford Sound Cruises
Dolphins, Fur Seals, Fiordland Crested Penguins
Hundreds of Waterfalls Around Milford Sound in Wet Weather
Fiordland National Park, Southland NZ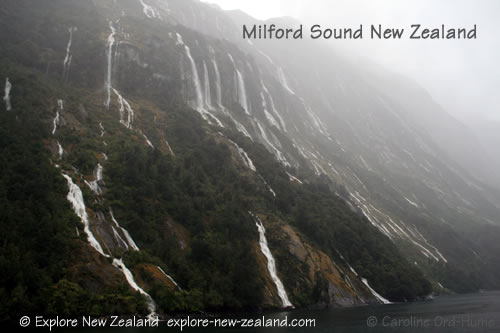 Doubtful Sound
Doubtful Sound Cruises
Kayaking
Dolphins, Fur Seals, Fiordland Crested Penguins
Dusky Sound
Sutherland Falls
Highest falls in New Zealand
Lord of the Rings Filming Locations
Rugged Country South of Rivendell
Flight to the Ford
River Anduin
Dead Marshes
Fangorn Forest
Isengard
Lothlorien
Amon Hen
All Lord of the Rings Filming Locations
Southland New Zealand Location Map