Routeburn Track New Zealand
The 32 kilometre Fiordland Routeburn Track is situated in the southwest of the New Zealand South Island and runs in between the lakes of Te Anau, Milford Road (Te Anau to Milford Sound), and Wakatipu.
View From the Routeburn Track - Photo by Alistair Mackenzie
South Island
3 day walk
32 kilometres
Huts and camping require bookings.
This is a really well known Great Walk providing fantastic hiking through stunning and majestic South Island scenery.
Routeburn Track National Parks
Traversing both Mount Aspiring National Park and Fiordland National Park this is a walk in a region of New Zealand that can't fail to provide awe inspiring landscapes.
Both these National Parks are part of the Te Wāhipounamu, a South West New Zealand World Heritage Area.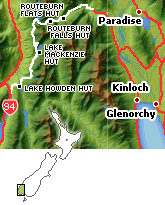 View Towards the Routeburn Track Landscape from Glenorchy
The nearest towns are Queenstown, Glenorchy, and the lovely Te Anau and all have a range of types of accommodation, there is something to suit everyone's tastes and requirements.
You can find all the camping and hiking equipment you need in the shops dotted around Queenstown and in Te Anau, and that includes places where you can hire any equipment you may need.
Choose to walk tracks independently or with a guide and there are one day walks available if you don't want to take part in the full 3 day trek.
The DOC manages this track and making bookings for huts and/or camping is essential. You can get the full information about booking from the DOC.
As an Amazon Associate I earn from qualifying purchases
GREAT WALKS OF NEW ZEALAND - Craig Potton with Shaun Barnett
DAY WALKS IN NEW ZEALAND 100 GREAT TRACKS - Shaun Barnett & Geographx
Please note: DOC approve guide and overnight walking concessions. A concession for this walk has only been allocated to Tourism Milford Ltd, visit Ultimate Hikes for full details.