Ski Instructor Courses New Zealand
Ski instructor courses and snowboard instructor courses in New Zealand provide professional training resulting in ski instructor qualifications.
Ski and snowboard instructor courses providers in New Zealand pride themselves on maintaining a global reputation for a high standard of professionalism.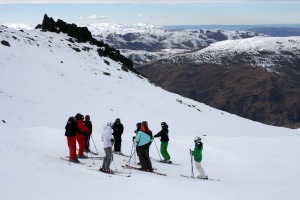 Southern Hemisphere / Northern Hemisphere
How about training to be a ski or snowboard instructor in the New Zealand southern hemisphere between July and September, and following your training and graduation be ready to work in the northern hemisphere in November! Sounds like a good investment doesn't it?
Start working in northern hemisphere countries such as the USA, Switzerland, Scotland, Norway, Canada, Germany, Austria, and Italy... plenty to choose from.
Recommended Ski Instructor Courses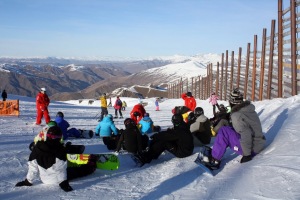 SnowSkool has operated snowboard and ski instructor courses since 2003. Joining one of SnowSkool's courses in Wanaka, South Island, New Zealand provides you with the opportunity to train and achieve your goal of being able to work as a ski or snowboard course instructor. Graduates from the SnowSkool New Zealand courses have gone on to work in many resorts and countries across the world.
Achieving qualifications following these ski courses will open doors to employment opportunities in a sport that you love. Most often a 100% pass rate for the NZSIA Level 1 Ski Instructor is common, with NZSIA Level 2 Ski Instructor approximately at a 90% pass rate.
Location
The stunning blue waters of Lake Wanaka, with the Southern Alps as a backdrop, are the first thing that you will be amazed by when you get there.
The scenery of New Zealand is unique wherever you go but in this particular region it is stunning and provides the perfect setting for the duration of your ski or snowboard instructor course.
The terrain of Treble Cone, the largest ski area of the South Island at 1350 acres, offers a mountain experience of 45 percent expert terrain classification, 45 percent intermediate terrain, and just 10 percent as the terrain for beginners. Skiing in New Zealand is an experience you won't want to miss and to come out of that experience with the added benefit of obtaining ski instructor qualifications will set you up for the future.
Enquiries and Booking
Ski and snowboard instructor courses in New Zealand run through the winter months from July to September with SnowSkool.
Quote "EXPNZ" when making a SnowSkool enquiry and you will get a £50 discount if you make a booking!!!
If you are interested in more information about a snowboard or ski instructor course New Zealand, take a look at the Course and make an enquiry to SnowSkool and quote "EXPNZ" when making your enquiry. SnowSkool also provide ski instructor courses in Canada and France if you prefer.
You will find that Wanaka is one of the most popular ski, snowboard, and heliski destinations for many winter sports holidays in NZ so why not try a bit of heliskiing while you are there! Cardrona, Treble Cone, and the Waiorau Nordic Ski Area are all located in the Wanaka region.