Abel Tasman National Park
Abel Tasman National Park
The Abel Tasman National Park, located in the north of the South Island, is the smallest national park in New Zealand at 22,530 hectares. The closest towns are Takaka, Motueka, and Kaiteriteri in the Tasman Region.
Golden Beach, Abel Tasman New Zealand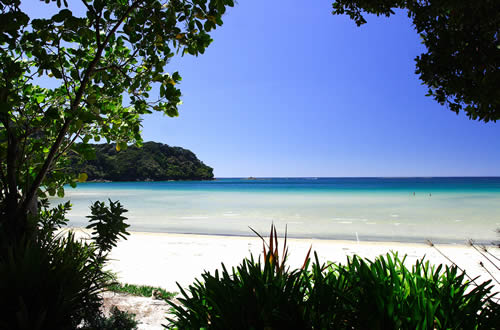 History of Abel Tasman National Park
This park opened in 1942 and out of all the national parks in New Zealand it may be the most famous one.
The reason for its fame being that it has earned a reputation for having beautiful beaches with golden sand, original and natural estuaries, and many geological features in rocky outcrops and cliffs.
A Dutch explorer named Abel Tasman first visited this region in 1642 which is where the park gets its name.
Climate in the Abel Tasman NP
The Abel Tasman National Park is well known for a mild climate with popular beaches and plenty of sunshine hours in summer.
The Park is basically a mixture of laid back beach life and snorkeling combined with opportunity for adventure such as hiking and kayaking.
Wildlife in Abel Tasman National Park
There is an abundance of wildlife and some of the birds and animals you may see when visiting the park include; dolphins and fur seals, little blue penguins, gannets, cormorants, Weka, Bellbirds, New Zealand Fantail, Pukekhoes, Royal Spoonbill, and Tui.
Coast Track
The Abel Tasman Coast Track, also famous for walks and tramping, is located in this South Island national park. Kayaking is another popular activity across the Abel Tasman Park.
There is an ancient Maori pa site with fantastic views where you can still see evidence of the food pits and terracing. The site can be accessed via a hiking track leading up Pitt Head from Te Pukatea Bay.
Activities in Abel Tasman New Zealand
Kayaking, Abel Tasman National Park, New Zealand
If you are passing through the park for a quick one day visit there are numerous sightseeing opportunities through walking tracks or by boat and water taxi services. You can find out about these at the settlements of Kaiteriteri, Marahau, or Motueka, in the Tasman region
It is advisable to book in advance if you'd like a boat trip, guided walk or tour by kayak, particularly in the summer months.
Lord of the Rings "Chetwood Forest" filming site is in Abel Tasman National Park.
The Abel Tasman Coastal Track takes you through forests and around headlands, passing some of the parks sandy beaches and can be walked in any season of the year.
Alternatively taking one of the tracks inland to Takaka Hill will give you a different view and perspective of the landscape of the park.
There are also hiking huts, camp sites, and lodges in the Park if you like your independence.
Accommodation around Abel Tasman National Park
There are a variety of types of accommodation whether you are looking for a luxurious lodge, bed and breakfast, hostel, or camping.
Towns
Settlements to look for accommodation in the area are Totaranui to the northern end of Abel Tasman National Park, Kaiteriteri and Marahau to the southern end, with Torrent Bay and Awaroa being good for the availability of private lodges.
Motueka and Takaka are not far away from the national park and are popular for accommodation, getting information, and making bookings.
Huts and Campsites
Four hikers' huts are provided along the Abel Tasman Track by the Department of Conservation and similarly standard huts are also provided along the inland tracks. These huts should include mattresses, toilets, water, and may have some cooking facilities. There are also campsites in the park that will include facilities such as toilets, water, and fireplaces. Be aware that in the peak summer season you will need to book huts and campsites with the DOC.
National Parks of New Zealand
Walks - Native Birds - Animals - Wildlife Parks
Abel Tasman National Park Location Map