Abel Tasman Coast Track
Abel Tasman Coast Track
Map New Zealand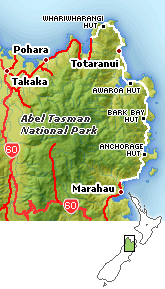 The Abel Tasman Coast Track is located in the South Island Abel Tasman National Park on the north shores and is one of the nine New Zealand Great Walks.
South Island
Between 3 and 5 Days
54 km
Huts and camping must be booked in advance.
The Abel Tasman track has easy walking but has bridged waterways to cross when the tide is right. Make sure you check timetables for the tides and time your walk so you can cross at the right times. You will be able to get timetables locally.
At 54km in length and 3 to 5 days in the time it takes to walk this coastal hike, it is listed as one of the Great Walks of New Zealand.
Along the length of the walk there are camp sites and huts where you can stay the night, payment and bookings are required. You can see where the huts are marked.
You can choose to do the walk by individual days and stay in alternative accommodation rather than the huts if you wish.
There is no charge for day walks and accommodation is available in the nearest towns of Marahau, Kaiteriteri, Nelson, Motueka and Takaka.
Note that the last petrol facility before Totaranui is at Takaka.
For shops catering for kayaking and trekking needs you are best to check out Takaka, Motueka, and Nelson before you get out into the wilds to make sure you have all the equipment and supplies you need for your trek. This tip is particularly relevant if you plan to stay in the track huts overnight.
As an Amazon Associate I earn from qualifying purchases
GREAT WALKS OF NEW ZEALAND - Craig Potton with Shaun Barnett
List of National Parks
Kayaking along the coast of Abel Tasman National Park, New Zealand