Tasman New Zealand Region
Tasman New Zealand is the region covering the North West side of the South Island and the Abel Tasman National Park is one of the places that make the region famous for the Parks stunning scenery, golden sandy beaches coves and bays, and bush walks with views that take your breath away.
Kayaking, Abel Tasman National Park Coast, New Zealand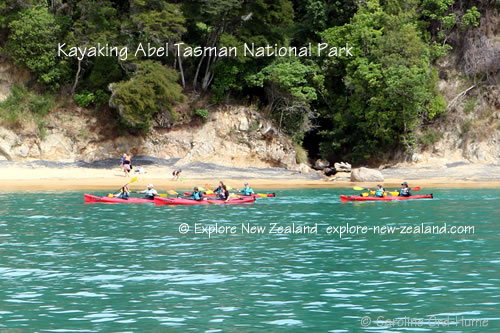 There are two more equally beautiful national parks in Tasman, Kahurangi National Park and Nelson Lakes National Park.
The two main settlements for starting points to explore the Abel Tasman National Park are Motueka and Takaka, both of which provide all the information you will need before heading off into the Park.
If you want to make use of any of the huts within the park for an overnight stay you must book with the Department of Conservation because they are really popular and are booked up well in advance. The i-SITE office in Motueka can provide advice and information, and help with bookings and tours through the area.
Tasman West Coast Cliff, Cape Farewell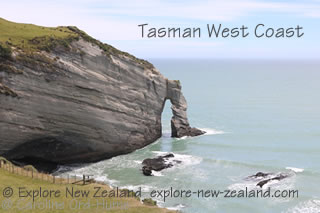 Collingwood is the best starting place for access to Kahurangi National Park from the north, and the northern end of the Heaphy Track, one of the 9 Great Walks in New Zealand.
Collingwood also makes a good base for trips out to places such as Farewell Spit and Cape Farewell.
Tours up the Farewell Spit can be booked at Collingwood, you are not permitted to drive on Farewell Spit in your own vehicle.
Farewell Spit, Tasman, New Zealand
On the west coast below Cape Farewell there is good surfing to be had and some amazing views down the coastline.
There isn't a road going south all the way down the coast to the West Coast region from Tasman, although you can of course walk the Heaphy Track. To drive south requires returning along SH60 to Motueka or Richmond to take SH6 through Murchison to Westport. At Westport you can go north along the coast to get to the lower end of the Kahurangi National Park, but the coast road does come to an end.
To visit the Nelson Lakes National Park head south on SH6 to Kawatiri Junction, then take the SH63 to St Arnaud, or carry on SH6 to the turn off for Rotoroa. The lakes Rotoroa Lake and Rotoiti Lake are big attractions in this park, along with hiking and skiing.
Places in Tasman New Zealand
Sunset at Collingwood, Tasman
Brightwater
Collingwood
Golden Bay
Kaiteriteri
Kina Peninsula
Mapua and Ruby Bay
Motueka District
Moutere
Murchison
St Arnaud
Rabit Island
Tahunanui
Takaka
Wakefield
Tasman NZ Attractions and Activities
Tasman - Kahurangi National Park Landscape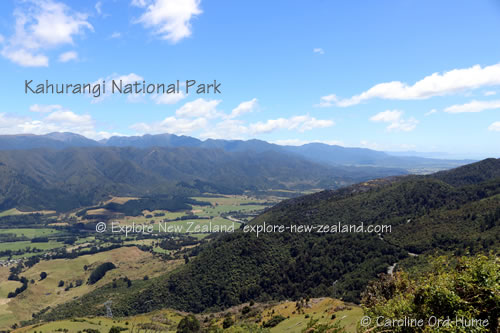 Tasman National Parks
Abel Tasman National Park

Hiking
Kayaking
Abel Tasman Memorial
Seal Colonies
Tonga Island Marine Reserve
Wainui Falls

Kahurangi National Park

Cobb Valley
Northwest Nelson Conservation Park
Hiking
Caves and Potholes
Suspension Bridge and Lagoon
Limestone Arches
Waikoropupu Springs
Takaka Hill and Hawkes Lookout

Nelson Lakes National Park

Lake Rotoroa
Lake Rotoiti
Fishing
Hiking
Skiing
Motueka
Motueka Quay
Motueka District Museum
Motueka Sandspit Scenic Reserve
Kaiteriteri
Marahau Beach
Ngarua Caves
Takaka
Takaka Hill 800m
Waikoropupu Springs (Pupu Springs)
Aorere Historic Goldfields
Golden Bay
Cape Farewell
Pillar Point Lighthouse
Farewell Spit
Farewell Spit Nature Reserve Bird Sanctuary
Farewell Spit Lighthouse
Lord of the Rings filming locations
Abel Tasman National Park
Kahurangi National Park
Rugged Country South of Rivendell
Eregion Hills
Dimrill Dale
All Lord of the Rings Filming Locations
Tasman Region Location