Kaimai Mamaku Forest Park
Kaimai Mamaku Forest Park New Zealand
Kaimai Mamaku Forest Park in the North Island is one of the lesser known, or least visited ranges in New Zealand covering 37,000 ha.
The parks range has history across worlds that have been created at some level by both humans and nature over the years resulting in an exceptionally unique natural landscape that provides a hiking trip to remember.
There a loads of well known tracks to choose from in New Zealand but if you are looking for somewhere to enjoy your trek without bumping to other walkers all through the day, this may be an ideal location for you to consider for your holiday.
There are many different types of walk you can do in this area and if you are staying in accommodation in the Bay of Plenty region, for example Tauranga, most walks are within half an hour to an hour drive away from your holiday accommodation.
I went on a one day walk up the Tuahu Track to a Kauri Grove... well, it was a leisurely walk with no particular time to be anywhere and was just right for a day out.
It was an informative guided walk where Kair explained all the native plants we came across along the track, and told us the various uses and properties of the plants. People such as the Maori and settlers to NZ had made use of the native flora through history for food and medicinal purposes as well as in survival situations in the NZ bush.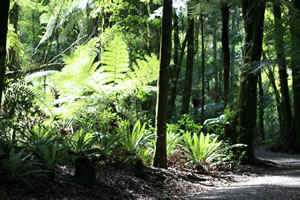 The Kaimai Mamaku Forest Park is an excellent example of the native New Zealand bush of today that is being encouraged to regenerate after years of human habitation of the country and exploitation of resources.
For example, the Kauri Tree that is now under threat, not only due to the excessive logging over the years, but also due to a recent spread of disease between areas where there are Kauri Trees being protected in the North Island.
The Kauri have just about survived years of being logged by humans, or abuse from vandals, and now they are under attach by a microscopic fungus-like organism called PTA (Phytophthora taxon Agathis).
Scientists, now fearing for the safety of New Zealand's iconic 1,200-year-old giant kauri tree named Tane Mahuta, in the Waipoua Forest of Northland, and are asking walkers to be aware that this is an organism carried by soil. Walkers are advised to wash their boots when entering and leaving forests, particularly if they have recently visited a forest where there may be diseased Kauri trees.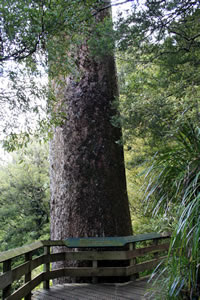 Kauri Tree
Anyway, if you ever wonder why New Zealand airports are so on the ball about checking for mud and food when you land, this is why.
Animal and plant diseases often can be transported into a country through travellers from overseas. So be sympathetic in this countries efforts to deter such things from happening and if you are a frequent walker please wash your boots regularly!
The Kaimai Mamaku Forest Park, Waikato region, is within the range known as the 'Kaimais that mark the most northern limit where you can find red and silver beech trees, and also the southwards limit to where you can find the native New Zealand Kauri trees growing.
This forest park includes native forest birds and if you go on one of the walks through the park you may catch sight of; the kererū New Zealand native pigeon; North Island Robin; the Fantail; the Tui; and the TomTit. So there is plenty of flora and fauna to be seen while hiking in this region.
Kaimai Mamaku Park access is via several access points from Katikati to Tauranga, and to the south of a town that is well worth a visit, Te Aroha. If you are looking for a base to use for your hiking experiences there are plenty of locations to choose from in the region.
Walks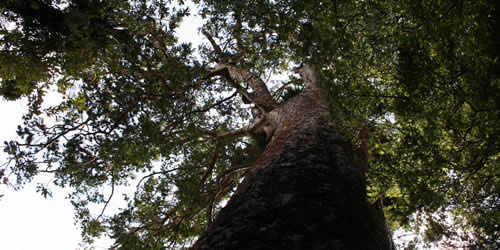 Kauri Tree Canopy