Heaphy Track New Zealand
Located in the Kahurangi National Park, the Heaphy Track is the longest of the New Zealand Great Walks and as you can see from the map is in the north west region of the South Island.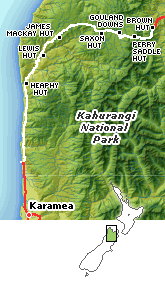 Although is a four to six days long hike, the grade of 'good walking' has been given to it and it is described as suiting well-equiped and fit hikers.
You'll pass through a variety of terrains with all rivers and streams being bridged for crossings.
South Island
4 - 6 days
78.4 km
Bookings are required for the tracks huts and campsites
Kahurangi National Park
This one of the DOC Great Walks, it covers 78.4 kilometres, and the hike crosses the Park's wide range of different landscapes in 4 to 6 days of hiking.
There is a junction of the Brown and Aorere Rivers at the start of the walk, followed by tracks through forests, tussock owns, and nikau palms, and views of the West Coast sea.
Towns Near the Heaphy Track
Nearest towns include Collingwood, Takaka, Westport, Karamea, and Nelson. Most of these towns include accommodation, cafes and supermarkets, and stores that cater for camping and hiking gear if you need to get your supplies before embarking on your trek.
Heaphy Track Huts and Campsites
The well formed walking tracks come with a provision of campsites and huts along the way that you can book with the Department of Conservation for a fee.
The Heaphy Track has 7 'Great Walk' huts that usually have better facilities, such as a toilet, water supply, and mattresses, than the basic hut provision.
More about Kahurangi National Park
As an Amazon Associate I earn from qualifying purchases
Book - GREAT WALKS OF NEW ZEALAND - Craig Potton with Shaun Barnett