Nelson Region New Zealand
Nelson is a thriving city on the coast at the top of the South Island in New Zealand and is one of the oldest settlements in NZ.
The region has a warm climate and can be used as a base for access to some lovely beaches and, being between the two ranges of Arthur and Richmond, there are national parks to visit too such as the Nelson Lakes National Park, Abel Tasman National Park, and a bit further away the Kahurangi National Park, all in the Tasman Region.
It doesn't take long to drive to Nelson from the port of Picton, and if that is your route it is well worth driving the first part of the journey along the Queen Charlotte Drive as you leave Picton.
Tasman Bay, View Across Bay to Nelson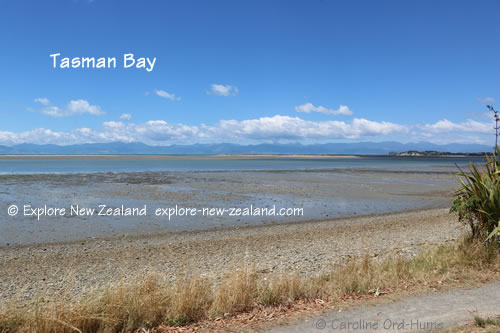 Places to go around Nelson
Nelson Airport
Cable Bay
Kina Peninsula
Nelson City
Rabbit Island
Richmond
Tahunanui
Wakefield
The stunning Abel Tasman National Park with its golden beaches and clear water is doable in a day trip from Nelson and is not to be missed.
Nelson Region Attractions and Activities
There is plenty to do in this popular region such as wineries, beaches, museums, art galleries, markets, kayaking, sailing, paragliding, rock climbing, quad biking, and national parks.
The Nelson i-site tourist information centre will have up to date leaflets on the city and region on activities, getting around, accommodation, food, drink, and entertainment.
Botanical Reserve
Founders Park and Miyazu Gardens
Nelson Arts and Crafts
Nelson Market
Nelson Provincial Museum
Queens Gardens
Suter Art Gallery
Tahunanui Beach Reserve
World of WearableArt and Classic Cars

Nelson Region Location