New Zealand Snowkiting
New Zealand Snowkiting is an accessible and safe kite sport and is becoming more and more popular as an alternative to ski and snowboard sports.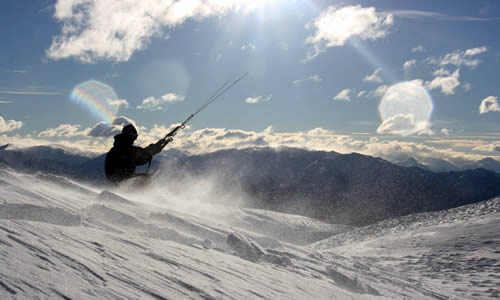 Snowkiting in the southern alps, South Island, New Zealand
The Southern Alps in the South Island, New Zealand, are where you'll find the southern hemisphere Snowkite-Mecca… Snow Farm. The regions consistent winds, deep and untracked powder, along with rolling hills, makes this a fantastic location in which to take on this kitesport.
It doesn't matter if you ski or you'd rather snowboard, you'll get the ultimate of experiences. Alpine huts in the backcountry give you shelter when the conditions get challenging, or the possibility for multiday expeditions with your portable kite type ski lift powering you along.
If you were looking for something with a real challenge you could travel to the other side of the valley and visit the Cardrona resort where you'll find more demanding and steeper terrain there.
New Zealand Snowkiting in the southern alps, South Island NZ
The season for snow kiting runs mid-June through September. The prevailing wind is north westerly which blows 75% of the winter at Snow Farm. However, Snow Farm is suitable for the majority of wind directions. When it blows south westerly it funnels through the mountain range, more suited for steep and varied terrain, back of Cardrona.
Temperatures reach an average of minus six centigrade through mid-winter with the average high being nine centigrade, but it does feel warmer than that on the sunny days.
Snow Farm is situated 34km away from Wanaka, just 55km from Queenstown. To get there, head north from Queenstown, across Crown Range, and follow signs for Wanaka. You will find Snow farm situated just beyond Cardrona village.
One of the closest major cities is Christchurch and by car this only takes 4.5 hours. For the no wind days why not try Cardrona Alpine Resort offering beginner and advanced level skiing or boarding slopes. Or for the braver more advanced, there is Snow Park that offers a variety of solely freestyle.
Just imagine a New Zealand Snowkiting ski or snowboard holiday without the lifts or the queues associated with them. Imagine the capability of carving fresh lines as you are powered uphill using nothing but the wind and the feeling of floating down the hill as you pop off ridges overlooking some of the most stunning world class scenery. You will find difficulty searching for locations so well suited to snowkiting as this.
General Information
Snow Season: June - September
Terrain: Flat Rolling Hills
Wind Direction: Prevailing NW & SW
Wind Strength: 10-25 knots
Temperature: -6◦C to 8◦C
Skill Level: All
Nightlife: Bustling in Queenstown \ Quiet to moderate in Wanaka
Operator: Kitesports. Quote "ENZKITE" when making any Kitesports Enquiry and Kitesports will know you found their courses on the Explore New Zealand website.
Snow Kiting South Island NZ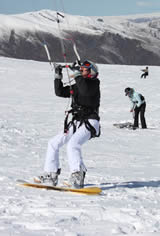 Snowkiting South Island NZ