Red Beach Auckland
Whangaparaoa Peninsula, New Zealand
Red Beach is just south of Orewa with a bridge over a river between the two. It's on the east coast, Hibiscus Coast, approximately 40km north of the centre of Auckland and 54km from the international airport.
Red Beach to Whangaparaoa Peninsula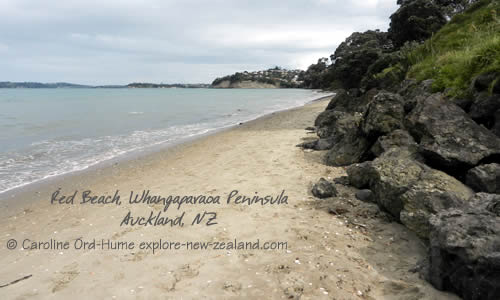 Part of the Whangaparaoa Bay coastline, Red Beach is located between two rivers, Orewa River and Weiti River, at the start of Whangaparaoa Peninsula.
Red Beach is an ideal location for short trips from Auckland and for international visitors. If you have just arrived in NZ, have picked up your transport, and are planning a tour of Northland, you may want to just get out little way out of Auckland but not drive too far on the first night.
I recommend this as a good place to get some rest before your journey north. Or... if it is the last night of your holiday it's also a good place to stay to be handy for access to Auckland Airport.
Surfing Beach and Car Park at Red Beach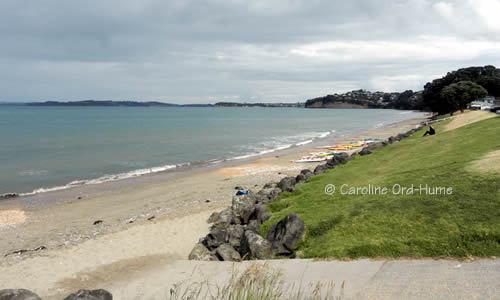 Because of the build-up of Auckland over the years, Red Beach almost seems like a suburb. However, once there I found it to be nice and quiet, it's not far from the City, and it's near to Orewa which has plenty of shops, banks, restaurants, and a bit further north is Waiwera with its famous hot pools.
The beach is approx. 2km long, is sandy, and safe.
How to Get to Red Beach
From Auckland
Hibiscus Coast
There is a choice of two routes heading north out of Auckland and it's around a 25 minute drive from Auckland Harbour Bridge.
State Highway 17 (SH17) or Northern Motorway (SH1) - Right turn onto SH17 (Hibiscus Highway)
Turn right onto Red Beach Road before getting to Orewa. If you get to a bridge over Orewa River you have missed the right turn to Red Beach.
From Northland
SH1 - Left onto SH17 for Waiwera and Orewa
Go straight through Orewa, over the bridge; then turn left onto Red Beach Road.
Activities Near Red Beach
Surfing Beach
Red Beach Recreational Reserve
Snow Planet, Silverdale
Fishing
Surfing and the Beach - Surf forecast
Tiritiri Matangi (Wildlife Sanctuary)
Golf
Whangaparaoa Peninsula
Whangaparaoa Peninsula, Auckland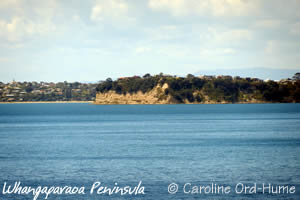 Shakespear Regional Park is at the end of the peninsula if you want to take a drive out there for a walk or view of the Hauraki Gulf. There is a camping site at Te Haruhi Bay.
Stanmore Bay
Wade Heads
Tindails Beach
Matakatia Bay
Army Bay
Tiritiri Matangi Island sanctuary
Motor Park at Red Beach
I stayed at Pinewoods Motor Park, 23 Marie Ave; it's a very spacious and sheltered site for campervans and camping and is fenced with a security access gate to which you use the card provided.
So if you are parking up a motorhome, the security of an enclosed park gives you a bit more peace of mind when you leave the van. The site has all facilities such as kitchen, showers, laundry, TV lounge, a gym, and includes internet access. Outdoors in the Park there are trampolines and a playground, an outdoor movie screen setup, and a large expanse of grass area.
The hedging between each set of pitches provides a bit of privacy for campers too.
Pinewoods Motor Park is just a short walk to the public beach via a path; The Park also has its own safe private beach called Jacobs Ladder. Ask in the site office for details.
Red Beach Location