Auckland City Map
Below is a map of Auckland City and a street map.
Auckland is a city that provides residence for over a third of the population of New Zealand. Auckland is located on the North Island; it is a sprawling city that lies on a piece of land between two harbours.
Auckland City Streets in the Rain
Auckland weather reflects that it is in one of the sunniest and mildest regions of New Zealand.
The capital city of New Zealand may well be Wellington but Auckland, fastly becoming an international city, is where most cultural and economic activities take place.
Auckland is a fantastic city to explore. With around 50 extinct volcanoes, plenty of beaches, and many surrounding islands, you can choose from a variety different activities and adventures around Auckland, or use the Auckland City Map below to choose where to go on excursions in the surrounding Auckland region and islands.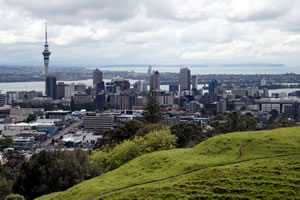 View from Mount Eden, Auckland City
Visit sights such as Mangere Mountain or Mount Eden in Auckland and you can see quite a distance around the City and Auckland Harbour.
Wander round the historic Auckland Museum while you are there too. It will give you an insight into the pre-history and history, natural and man-made, of this unique country.
Go for a tour on the Auckland Dockline Tram, a romantic and nostalgic journey through parts of the City on a vintage Tram.
Auckland City Map and Location
Mount Eden Auckland New Zealand